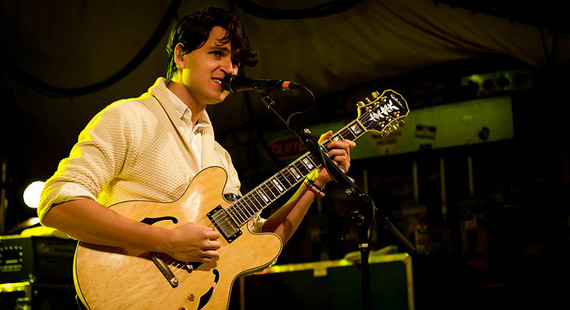 Mark Runyon | ConcertTour.org
Sasquatch! Festival Expands to Two Weekends in 2014, Different Lineups
Sasquatch Music Festival started out 12 years ago as a simple, one-day music festival that had grown to a four-day, nationally renowned event when it was held last month. Because of that growth, organizers have announced that next year's event will be spread out over two weekends.
While festivals expanding to two weekends are not uncommon these days (see: Coachella), Sasquatch is doing something a bit different by holding the two weekends a month and part and having each weekend feature a completely different lineup.
The first incarnation will be held May 23-25, 2014, with the second weekend coming July 4-6. As usual, the festival will be held at the Gorge Amphitheatre in George, Wash. The lineups for the two weekends, of course, won't be announced until later this year or early next year.
It is reported that this year's festival sold out in 90 minutes. This is due to a strong lineup that included Vampire Weekend, Postal Service, Elvis Costello, Sigur Ros, Mumford & Sons and many more.
One pretty cool piece of news coming from the festival concerning a couple of those acts mentioned above was that Mumford & Sons and Elvis Costello teaming up backstage for a cover of Bruce Springsteen's "The Ghost of Tom Joad." The collaboration was part of support for the One Campaign's anti-poverty initiative agit8, and is timely with the upcoming G8 summit, which will be held in Ireland June 17-18.
"We wouldn't know what to say, so it's quite helpful to have music that says things for you," Marcus Mumford said of the song.
Other artists joining support of the cause include Kid Rock, Tom Morello, Ed Sheeran, will.i.am, fun., and Macklemore and Ryan Lewis. All of those artists have contributed their own protest songs to the official agit8 website, which writes that "protest songs have helped shape history, proving that when people come together and raise their voices extraordinary things can happen."