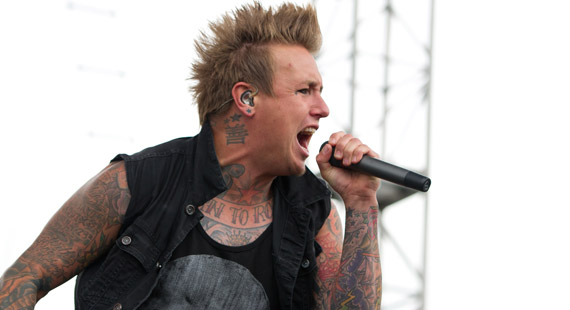 Mark Runyon | ConcertTour.org
Sacramento's Aftershock 2013 Features Megadeth, Korn, Avenged Sevenfold
Sacramento's Aftershock Festival is back for a second year, and this year will feature an expanded lineup headed up by Megadeth, Korn and Avenged Sevenfold.
Growing from a one-day event last year, the new incarnation will take place September 14-15 this year at the city's Discovery Park. Other notable artists appearing include Shinedown, Papa Roach, Volbeat, Halestorm, Buckcherry, Skillet, Steel Panther and P.O.D. The official website for the festival indicates that at least one more big name artist will appear, and other lesser known artists likely will be added in the coming weeks, as well.
Two-day, general admission tickets for the festival cost $99.50, and single day passes can be purchased for $54.50 each. Like most festivals these days, VIP tickets also are available, and in this case are $199 for a two-day pass. These tickets includes access to an exclusive lounge area with dedicated bar, beverage and food service, as well as a prime view of the main stage. Other perks include a shaded seating area and private restrooms.
The show is sponsored by Monster Energy Drinks and is produced by Danny Wimmer Presents, the company also responsible for the Welcome to Rockville festival in Jacksonville, Fla. and the Rock on the Range festival in Ohio.
The concert will be held just north of the American River bike trail in Discovery Park, and just east of where the elevated portion of Interstate 5 crosses the park. The makeshift venue will have a capacity around 15,000 music fans.
The event also will serve as the culmination of the Carnival of Madness tour, which features Shinedown, Papa Roach and Skillet. That tour also is presented by Monster Energy, and will kick off August 13 and will remain on the road through the Aftershock festival. That tour also will feature In This Moment and We Are Human.