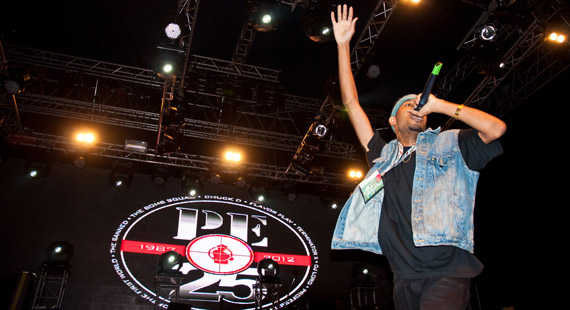 Michal Durinik | Shutterstock
Rush, Public Enemy Among 2013 Rock and Roll Hall of Fame Class
Rush has been eligible for induction into the Rock and Roll Hall of Fame for 14 years now, and in that time the group's fans have been lobbying for the band's inclusion. The Canadian prog-rock band will finally be inducted next year, along with Randy Newman, Heart, Public Enemy, Albert King and Donna Summer.
The induction list was announced by Red Hot Chili Peppers bassist Flea at the Nokia Theater in Los Angeles, where the induction ceremony will be held next year. Non-performers inducted next year will be producer Quincy Jones and label executive Lou Adler.
Flea spoke of the honor during the nominations announcement, and referenced his own induction which came earlier this year.
"I love halls of fame," he said. "I love to pay homage to people who work in the arts, academics or sports. If these people feel remotely as honored as I did, it's a beautiful thing." Flea was inducted this year with the rest of the Chili Peppers – others inductees this year include Guns N' Roses and the Beastie Boys.
Part of the reason Rush may have finally been included is that this is the first year that fans have been able to participate in the selection process. In the past, Rush fans have created Facebook pages and online petitions to promote the group's induction. Guitarist Alex Lifeson recently spoke to Billboard about the passion of the band's fans.
"I know for me, and I would say it's true for all of us, we felt that you've got to enjoy every moment that you're out there doing this," he said. "It's a privilege to be able to play music, especially for your whole life. And it's an even greater privilege to have such a fantastic audience who's willing to support you and listen to what you're doing and become so passionate, like Rush fans always become. You know, it's really, really something special and it's never lost on us."