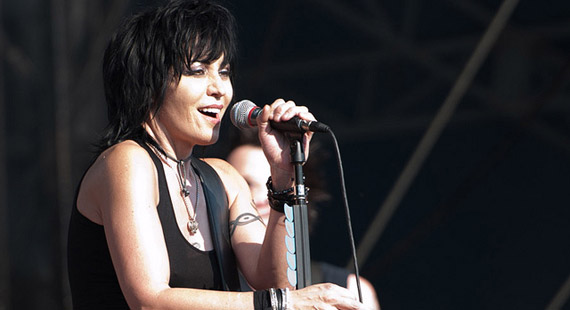 Mark Runyon | ConcertTour.org
Rush, Joan Jett Among Rock and Roll Hall of Fame Nominees
Rush and Joan Jett lead this year's Rock and Roll Hall of Fame Nominees.
Rush joins a long list of first-time nominees for the coveted honor that also includes Deep Purple, Public Enemy, N.W.A., Procol Harum, blues guitarist Albert King and the Marvelettes, a Motown group.
Joan Jett and the rest of the nominees have all been nominated at least one time in the past. R&B group chic have been nominated the most times, with six previous nominations, and the late disco singer Donna Summer will be on the ballot for the fifth time. Additionally, a slew of artists are up for the honor for the second time. These artists include Randy Newman, Kraftwerk, Heart, the Meters and Paul Butterfield Blues Band.
Alex Lifeson, guitarist for Rush, previously spoke of the Hall of Fame nominations to Billboard magazine.
"It kind of has nothing to do with us, you know?" he said. "We feel there are even other bands that should get in there before us, so we just really don't worry about."
The Canadian group already has been inducted into their home country's songwriter's hall of fame.
Ian Gillan, frontman for Deep Purple, also previously spoke about the Hall of Fame honors after Metallica singer James Hetfield endorsed the group at the 2009 ceremony.
"That's very flattering that they care," Gillan said. "We probably deserve it, but… we didn't start making music thinking of honors and halls of fame, and we still don't.
The ballots will now be mailed to the 600 Rock Hall voters, and the induction ceremony will take place next spring. This will be the 28th induction ceremony, and will be held April 18, 2013 in Los Angeles at the Nokia Theatre. HBO will tape the awards show and broadcast it at a later date.
Artists are eligible for nomination 25 years after the release of their first recording.