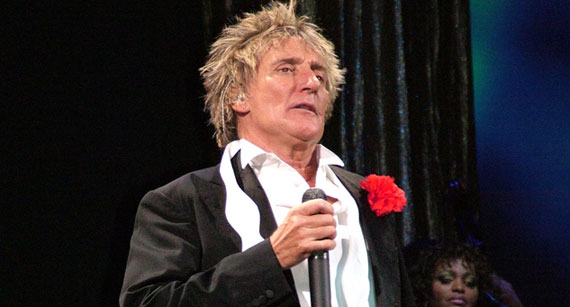 Mary A Lupo | Shutterstock
Rod Stewart, Stevie Nicks Revamp Heart & Soul Tour for Summer 2012
Rod Stewart and Stevie Nicks will reactivate their Heart & Soul tour later this year with a handful of dates this summer.
The six-date tour will kick off July 20 at the Quicken Loans Arena in Cleveland, Ohio, and will run through August 4, when the tour culminates at the BankAtlantic Center in Sunrise, Fla. In between, the tour will hit Cincinnati, Nashville, Pittsburgh and Orlando. There has been no word yet as to whether more dates will be added to the tour in the future.
The pair also toured arenas last year, and Stewart says he is ready to get back on the road with the former member of Fleetwood Mac.
"I couldn't be happier to be back on the boards with Stevie this summer," he said in a statement. "We had fantastic fun on the road together last spring and I'm thrilled at the chance to bring it to new cities and fans this summer."
That opening Cleveland date won't be the only time Stewart visits the city this year. In April, he'll be inducted into the Rock and Roll Hall of Fame with his first group, the Faces. He'll be inducted at this year's ceremony along with Guns N' Roses, Beastie Boys, Red Hot Chili Peppers and Laura Nyro, among others.
Stewart was inducted into the Hall of Fame as a solo artist in 1994. Stevie Nicks was inducted in 1998 for her work in Fleetwood Mac.
Stewart last released a record in February of last year called The Best of… The Great American Songbook. The album compiles the greatest hits of the "Great American Songbook" series he released throughout most of the last decade.
Nicks released her seventh solo studio album, In Your Dreams, in May of last year. The album debuted at number six on the Billboard 200 album charts, and marked the 30th anniversary of the release of her first solo album, Bella Donna.