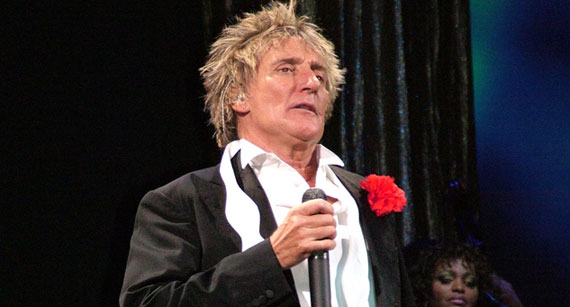 Mary A Lupo | Shutterstock
Rod Stewart Heads Down Under in February
Control yourselves ladies, Rod Stewart is returning to town. Next February the ex gravedigger will be hitting Australia's shores. We can't wait. His tour "The Hits" will be performed on stages in Melbourne, Sydney, Brisbane, Adelaide and Perth in addition to two special concerts: one in Hunter Valley at the Hope Estate Winery and one in Macedon Ranges at Hanging Rock.
Stewart has had an impressive 62 UK hit singles, with 31 reaching into the top 10. Fans attending the concerts can expect to hear classic songs such as "Da Ya Think I'm Sexy," "Hot Legs," "Sailing," "The First Cut Is the Deepest," "Stay With Me," "You Wear It Well," "Maggie May" and "Tonight's The Night," among other chart-topping songs from Rod Stewart. Rod will be smashing hit after hit out, if his past tours are any indication, with panache and his trademark style while treating the fans to a great night out and huge memory trip.
"Maggie May" was Stewart's first major hit in 1971, which was the b-side for "Reason To Believe." Subsequently the album and single "Every Picture Tells a Story" hit No. 1 in the UK, US and Australia. Rod never looked back from there, as he compiled an impressive number of hit albums and hit singles over the course of his five decade career. He has sold more than 200 million worldwide downloads, CDs and records.
Stewart recently entertained 65,000 fans at Hyde Park. The Mirror UK reported that the show was stolen by Rod Stewart. Both young and old from the crowd sang along with hit song after hit song, with Stewart taking the crowd on his career's musical journey.
Rod Stewart is just the second artist ever to be scheduled to perform at Hanging Rock in Victoria. Leonard Cohen was hosted by Frontier as the first ever performer for the site in 2010. They have announced the concert by Rod Stewart will be part of their concert series at Hanging Rock. There will be a limited number of tickets for the show, so fans are encouraged to get them early.
Joining Stewart on his tour of Australia is Diesel, Australia's very own hit maker. "Under The Influence," their latest album, was recently released to critical acclaim. The Rolling Stone summarized things by stating, this kid really can play.
In February 2010 Rod Stewart along with his Diesel, his special guest, will be performing all your favorite hits.