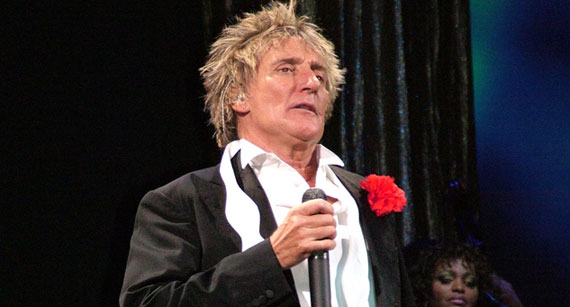 Mary A Lupo | Shutterstock
Rod Stewart Commits to Two-Year Residency at Las Vegas' Caesers Palace
Rod Stewart is joining the Colosseum headliners rotation at Caesars Palace. Over the next two years he will perform around 50 shows. The singer cautioned there would be no smoke, puffs, magicians, midgets or dancing ladies.
The 66 year old rocker said, I can't stand that stuff. We will just do rock 'n' roll, balls to the walls style.
The initial 18 shows will start on August 24. Ticket will be on sale on Sunday.
In November Stewart played the Colosseum for the first time. His stint was a trial engagement. If both sides ended up being happy it would continue.
The dates may also tie back to the court case that is now a decade old between Caesars Entertainment and Stewart. The lawsuit involved millennium concerts and a deposit of $2 million dollars. The singer canceled the show while he was battling with cancer. In 2008, the casino company voluntarily dismissed the case.
Although the host property is Caesars, AEG Live operates the Colosseum separately. The promoters generally likes for its headliners to either appear exclusively or have unique production designs.
However Stewart said, they only thing I'm able to do is what I know. Having ten dancers behind me dancing isn't the best way to go. Besides, I like doing my own choreography. I make it all up right on the spot.
The first shows at the Colosseum were much more intimate than sports arenas where Stewart usually performs.
He said, as the nights progressed, I would get more comfortable. I started to invite people to join me on stage. I would go down into the crowd. Then the crowd joins us on stage. From here on out we will call this Club Vegas.
It's also a quick commute for Stewart from Los Angeles. That suits the singer's current domestic situation. Stewart and Penny Lancaster, his wife, had their second baby named Aiden in February.
Stewart said, he's a great looking kid. Bonnie, as we way in Scotland.
Stewart's seventh and eighth children were the desire of his wife's.
Why not, I said. I still have my equipment to do this, he chuckled.
Eight is enough though. For now we've closed up shop. That's enough. No more.