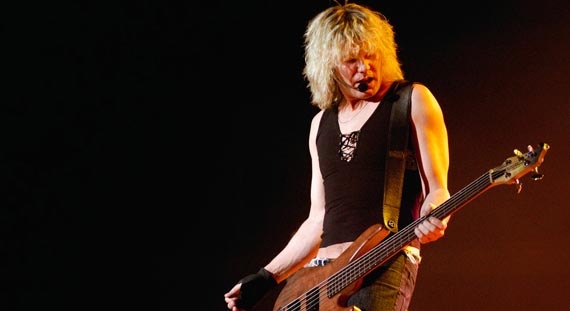 TDC Photography | Shutterstock
Rockett Reveals Poison will Tour with Def Leppard this Summer
Poison drummer Rikki Rockett confirmed via his Facebook page Sunday that Poison will tour with Def Leppard this summer, though no exact cities or dates have yet to be announced.
Speculation about this tour has been ongoing for sometime, stemming in part from a January interview with Def Leppard guitarist Phil Collen on noisecreep.com concerning future Def Leppard plans, and how they coincide with an upcoming Tom Cruise film, "Rock of Ages," which features the music of many 1980s rock bands.
"We're actually going to be back on tour around when ["Rock of Ages"] is out, and it would be a lot of fun to get some of the other bands featured in "Rock of Ages" out with us," he told the website. "Nothing has been finalized yet, but apparently Poison will be joining us – at least according to [Poison frontman] Bret Michaels, who has been telling everyone that they'll be touring with us this year. We went out with Poison in 2009, and we all had so much fun. If it does end up happening like that, I would love for the third band to be someone like Twisted Sister, since they're also in the new movie. I think that would make for a great lineup."
"Rock of Ages," which also stars Alec Baldwin, Russell Brand, Catherine Zeta-Jones, Paul Giamatti and Malin Akerman, is the film adaptation of a successful Broadway musical, which tells a love story through the music of Bon Jovi, Pat Benatar and Journey, in addition to the three bands already mentioned.
In a different interview with Music Radar, Collen said Def Leppard hopes to work up at least a "song or two" for the new tour, though a new record likely won't be released until at least 2013.
"There's so much involved with putting a record together," he said, "and the demographics for the people who buy albums is shrinking."