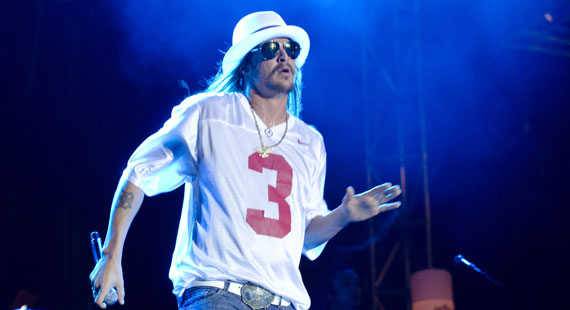 Mark Runyon | ConcertTour.org
Republican National Convention Features Kid Rock, Zac Brown, Journey
Kid Rock, Zac Brown and Journey are among the artists slated to play events related to the Republican National Convention in Tampa this week – though not all are actively supporting the political party.
Speaking to Rolling Stone, Robin Bronk, head of the Creative Coalition – an entertainment industry advocacy group that hosts nonpartisan events at both the RNC and the Democratic National Convention, said the performances are purely for entertainment purposes.
"The average convention-goer is between 35 and 55," Bronk said. "You want to give them what they want. It's the sweet spot of music that's current yet ties in with great memories. And it has to be a group that's not too overexposed, especially in Washington."
Other act scheduled to play events include 3 Door Down, Dave Navarro and "American Idol" Taylor Hicks. The convention itself will feature a house band led by former "Saturday Night Live" bandleader G.E. Smith.
A spokesperson for Journey specifically said the band was not associating itself with any party.
"It's not an endorsement of any candidate and/or party – it's just another private show," the spokesperson told Rolling Stone. "These dates are simply listed as 'Private Event' on the tour grid." And it would seem it's a very lucrative private event – Perez Hilton reports that the band will receive $500,000 for their appearance.
Others, however, have been more outspoken about their political beliefs. Kid Rock played his song "Born Free" at a Mitt Romney rally earlier this year, and Romney has been using the song as a campaign theme. Hicks and 3 Doors Down will be playing on the main stage at the convention.
Rolling Stone asked a Romney spokesperson if Romney was aware of some of Kid Rock's more controversial lyrics, many of which probably shouldn't be repeated here.
"Umm, hmmm… right, OK," said the spokesperson after some offensive lyrics were quoted. "Let me check on this stuff and I'll get back to you."