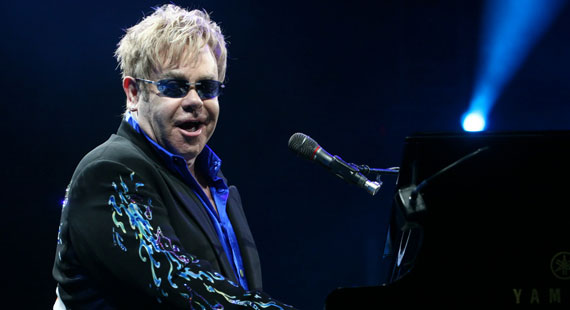 Mazzzur | Shutterstock
Repiratory Infection Sidelines Week of Elton John Vegas Shows
Elton John has had to cancel four Las Vegas concerts due to a "serious respiratory infection" that landed him in the hospital on Wednesday. The concerts were part of the legendary British singer's show "The Million Dollar Piano," which is a three-year residency at the Colosseum at Caesars Palace in Sin City.
John developed the infection last weekend while performing on Sunday, and his condition worsened as the week progressed before he was hospitalized at Cedars-Sinai Medical Center Wednesday morning. He stayed throughout the day undergoing "extensive tests" and was ordered "not to perform any concerts for approximately seven days with complete rest and antibiotic treatment to cure his respiratory infection and prevent any damage," according to a statement on his website.
"It feels strange not to be able to perform these 'Million Dollar Piano" concerts at The Colosseum," John said in a statement. "I love performing this show and I will be thrilled when we return to The Colosseum in October to complete the eleven concerts soon to be scheduled. All I can say to the fans is sorry I can't be with you. I hope to see you soon at this wonderful theatre at Caesars Palace."
Anyone who bought tickets to the shows can receive refunds at the original point of purchase, or may exchange them. The singer's next scheduled dates will be a summer tour in Europe that kicks off June 1 in Germany. Elton and his band will be back in North America in September for a short tour that will include visits to Peterborough, Ontario; Jackson, Miss.; Huntsville, Ala.; Johnson City, Tenn. and Wheeling, West Va.
There were originally 11 concerts scheduled for the Vegas stand, and the October dates John mentioned in his statement will serve as makeup dates once they are scheduled. John had to cancel two concerts in February when he came down with a case of food poisoning.