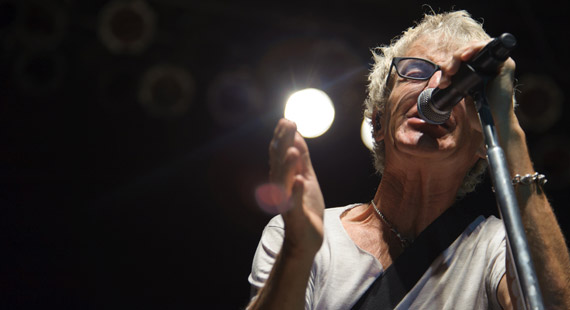 Randy Miramontez / Shutterstock
REO Speedwagon, Styx, Ted Nugent Relive the 80s With Summer Tour
"The Midight Rock 'N' Roll Express" is back for a second year, and once again features REO Speedwagon, Styx and Ted Nugent.
The nostalgia roadshow will kick off April 18 at the Ralph Engelstad Arena in Grand Forks, North Dakota, and will continue through a May 19 show at the First Niagara Pavilion in Burgettstown, Pennsylvania. Other cities scheduled on the tour include Moline, Illinois; Toledo, Ohio; Glens Falls, New York; Saint Augustine, Florida; Lincoln, Nebraska; Evansville, Indiana and Green Bay, Wisconsin.
The three bands held the first incarnation of the "Midnight Rock 'N' Roll Express" last year.
"When you live the ultimate American guitar's players dream, with the ultimate grinding band, performing the most intense fun songs in the world to the most enthusiastic audiences alive, every tour and every concert is an indescribable celebration," Nugent said in a statement that only got more Nugent-esque as he continued. "Styx and REO deserve me. Here we come again, baby, like dogs in heat!"
REO Speedwagon singer and guitarist Kevin Cronin sounded a bit more calm, if not exactly aware of how seasons fit into the calendar, in the same release.
"Yo, wake up everybody! Winter is over, the snow is melting, the sun is coming out – it's time for the second annual REO, Styx, Nugent springtime extravaganza." Cronin said. "We had so much fun in 2012 we all decided to fire this 'Midwest Rock 'N' Roll Express' thing up and do it again. Time to strap on our six strings, pack up the trucks and tour buses, get together with our best rock buddies and go out to have some big fun. See y'all soon."
The news comes just after Nugent made his own headlines by attending the U.S. State of the Union Address last night, February 12. What were those headlines? Well, U.S. News & World Report went with, "Ted Nugent Shouldn't Have Been Invited to the State of the Union." Regardless, Nugent didn't seem too happy with the Union's current state, which is not surprising considering his outspoken criticism of the Obama administration. However, he also took the time to criticize the GOP, and often it was a little unclear as to what he was criticizing at all.
"It's almost like Mr. Rogers with Lawrence Welk music," he said. "That can't win anything. The other side is ruthless. They're just ruthless… Maybe that's why I'm allergic to ties. I see too many Republicans worried about grooming instead of winning."
Makes his statement about the upcoming tour seem downright tame by comparison.