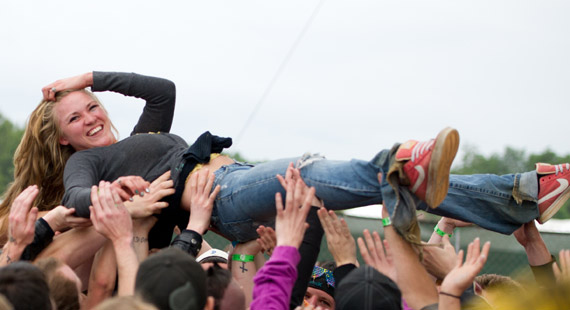 Mark Runyon | ConcertTour.org
Ponderosa Stomp Festival Comes to New Orleans in October
Legendary festival of eccentricity, The Ponderosa Stomp, is back in New Orleans after a hiatus in 2012.
The festival takes place on October 3th-5th and performances will be held at the Rock n Bowl, one of the festival's earlier venues.
According to festival organizers' mission statement, Ponderosa Stomp exists in order to promote and celebrate overlooked American talent, with the tagline being "3 Days of the best music you've never heard of." This year's festival will feature performances from  the Standells ("Dirty Water," "Riot On Sunset Strip"), Pacific Northwest garage band the Sonics ("The Witch," "Psycho"), Latino rocker Chris Montez ("Let's Dance"), rhythm-and-blues songwriter Swamp Dogg, Chris Clark, the first white soul singer signed to Motown Records; and returning festival favorites Baby Washington and Maxine Brown.
The event will also feature a music history conference, taking place between October 3rd-5th at the Wyndham Riverfront. The conference will include interviews with performers, including Swamp Dogg, and members of the Standells and Sloths, and a Q&A with Charlie Gracie, as well as much more.
Documentary filmmaker Joe Laura will also be showing "Heroes of the Ponderosa Stomp", which is set to feature clips of vintage and classic performances from the festival's illustrious history.
The Ponderosa Stomp is organized by The Ponderosa Stomp Foundation, a not-for-profit organization who describe their aims on a statement on the festival's official website as follows:
"We work to ensure that the unsung heroes of American music are given their due: celebrated, included, and remembered, but most of all, heard – during their lifetimes. We provide both a voice and a stage to overlooked sidemen, session musicians and other influential pioneers whose contributions have shaped American culture for over 50 years."
The foundation's main work is based around The Ponderosa Stomp, but they also organize school events across the country and numerous education initiatives.
All I can say is: lucky New Orleans, because this looks seriously seriously cool.