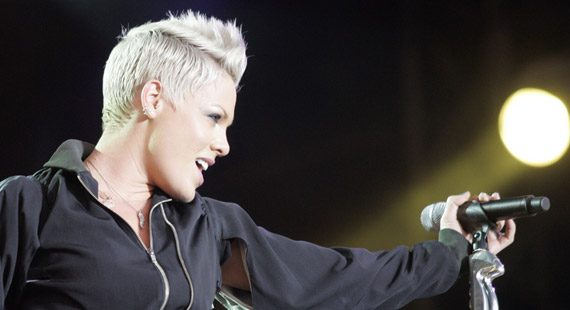 Northfoto / Shutterstock
Pink Gets to 'Truth About Love' on Upcoming Tour
Pink is celebrating her first number one album with an extensive arena tour of North America early next year.
"The Truth About Love Tour" kicks off February 13 at the U.S. Airways Center in Phoenix, Ariz, and is scheduled to continue through March 28 when the pop singer performs at the TD Garden in Boston, Mass. In between, the trek will visit cities including Las Vegas, Los Angeles, Houston, Dallas, Atlanta, Nashville, Chicago, Toronto, Montreal and Philadelphia.
The new tour shares its name with Pink's new album, The Truth About Love, which was released September 14. The album is the singer's sixth studio album and debuted at number one on the Billboard 200 albums charts. Though many of her previous albums have reached the top 10, this is the first record to top the chart.
The album sold 280,000 copies during its first week of sales, according to Nielsen SoundScan (via the Los Angeles times). This marked the third-highest debut week sales so far this year. Only Madonna's MDNA and Justin Bieber's Believe sold more during their first week of release.
Though there has been little information released about the tour beyond the tour dates, Pink did reveal in a live fan Q&A that Bob Mackie will be designing the tour outfits for the trek. There's been no official word yet as to whether Pink plans to add other legs of the tour around the world, or what artist or artists will accompany her as a support act.
In the same Q&A, she did, however, specify who likely won't be joining her on tour. Fans were throwing around Robyn's name as a possible touring mate, but Pink dismissed the idea, citing some unflattering things Robyn said about Katy Perry when the two were touring together last year.
"If you're going to talk s**t about me, at least wait for the last stop on the tour," Pink said.