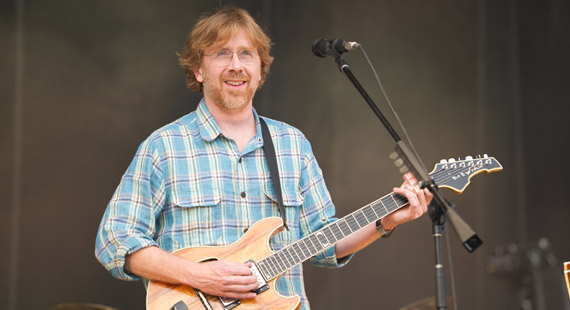 Mark Runyon | ConcertTour.org
Phish Unveils New Fall Tour Dates
Phish has a series of fall concert dates lined up for the Northeast which will follow up on the three day band's Festival 8 set to take place over the Halloween weekend in Southern California's low desert region.
The trek will kick off in Detroit on November 18 and include a three night stand at Madison Square Garden in New York City on December 2-4, and shows on back to back nights in Cincinnati, Philadelphia as well as Albany, NY. Tickets went on sale for the shows to the general public on October 23-24.
Festival 8, the first festival on the West Coast for Phish, featured eight sets performed over three days (October 30 and 31 and November 1) in Indio, CA. It included their first full length acoustic set ever played lived, along with the band's traditional Halloween performance that involved Phish donning what is described as "musical costume" in a press release issued by the band and covering an entire album from another band.
A gallery of albums that Phish may or may not play can be viewed by fans at the band's website. The band counted to Halloween by eliminating a contender one day at a time. Phish has covered previously "The White Album" by the Beatles, "Quadrophenia," by the Who, "Remain in Light," by Talking Heads, and "Loaded" by Velvet Underground among other albums.
Out on the road, Phish will support "Joy," their latest studio album, as well as their first since "Undermind" in 2004. The album reunited the band with the producer Steve Lillywhite (Dave Matthews Band, U2) who also headed "Billy Breathes," Phish's 1996 release.
There is also a deluxe box set album version available. It includes the entire album, a second album "Party Time," a booklet that is hard bound, limited edition individual posters for each of the songs on their original album, as well as a DVD that features live performances from Phish's 2009 summer tour.
Phish is comprised of Trey Anastasio, singer/guitarist, Jon Fishman, drummer, Mike Gordon, bassist, and Page McConnell, keyboardist. The band returned from their performing and recording hiatus of five years earlier in the year. It was Phish's second long break in their career. The first one took place 2000-2002.
2009 Phish Tour Dates
October 2009
30, 31 – Indio, CA – Festival 8
November 2009
1 – Indio, CA – Festival 8
18 – Detroit, MI – Cobo Arena
20, 21 – Cincinnati, OH – US Bank Arena
22 – Syracuse, NY – War Memorial at Onecenter
24, 25 – Philadelphia, PA – Wachovia Center
27, 28 – Albany, NY – Times Union Center
29 – Portland, ME – Cumberland County Civic Center
December 2009
2-4 – New York, NY – Madison Square Garden
5 – Charlottesville, VA – John Paul Jones Arena