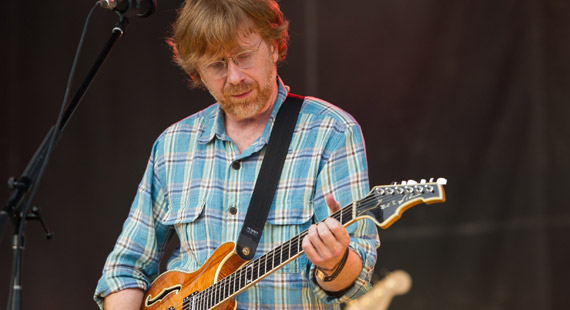 Mark Runyon | ConcertTour.org
Phish Lines Up New Year's Dates in NYC
Trey Anastasio, front man for jam band gods Phish, once told the New York Times he wanted to play a 30-hour show. We'll have to wait to see if this ever actually happens (with Phish, you never know), but the band may come close this New Year's Eve…sort of.
The Burlington, Vt. based 4-piece recently announced a four night New Year's Eve run at New York's fabled Madison Square Garden from December 28 to December 31of this year. With Phish shows often (read: usually) clocking in at over three hours apiece, the run may be the closest Phish phans get to that 30-hour show.
Known for its extravagant New Year's shows, the band is already expanding on last year's production that consisted of three nights at the Garden. Those show featured dancers, balloons, and the band disappearing from the stage shortly before midnight only to reappear on the other side of the Garden in a giant hot dog. Yes, a hot dog. So what other standards have the band set at previous New Year's shows that it will be looking to top this year? Let's have a look at the short list.
There are usually dancers, either onstage or elevated above the audience, and often both. In 1996, the band set a record at the time for the most balloons dropped, as 79,627 balloons descended on the audience at midnight. One time the stage was transformed into a giant aquarium, and at another show it was a giant terrarium featuring actual grass. A stagehand was once suspended above the stage in something resembling a chicken suit. And to ring in the new millennium, Phish performed a rare outdoor New Year's Eve gig on December 31, 1999 and played a midnight to sunrise set, lasting over seven hours (!).
Obviously there's a lot to live up to here, but Phish is known for producing the unexpected, and no one would expect this year to be an exception. Stay tuned for any more news of the shows as it comes in, though usually the band is pretty mum about what we can expect until the shows actually happen. Happy early New Year!