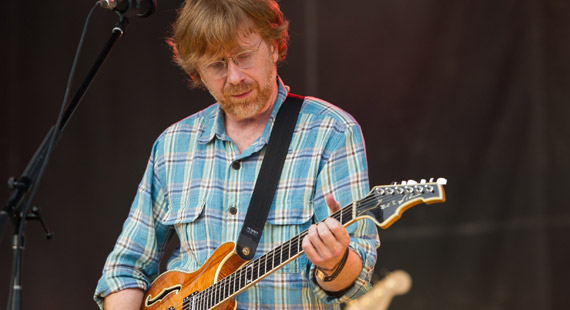 Mark Runyon | ConcertTour.org
Phish Close Out 2013 With Four Shows at Madison Square Garden
Serial rock-jammers Phish have just announced a string of New Year's Eve shows to close out 2013 at New York City's Madison Square Garden this December.
The shows, four in total, are set to take place on December 28th, 29th, 30th and 31st, with Phish transforming the whole area into one gigantic garden party. Or, Phish bowl, as I will refer to the event from now on. I'm probably not the first, but I may well be the last.
Anyway, cleverly, each performance will mark the band's 28th, 29th, 30th and 31st performances at the iconic venue so as your deductive powers may have informed you, the band are no strangers to The Garden, having made their performance debut there way back on December 30th, 1994.
All ticket costs include a download of the entire concert (after it's happened, obviously.)
This is becoming something of a tradition for Phish, but it's one they seem to be getting better and better at with The New York Times reviewing last year's shows, and saying the following:
"This was just a big, happy Phish party. The musicians' fingers flew; lights splayed above the stage; glowsticks were tossed, in mass bursts, at big transitions; balloons bounced around; the year-end ritual was intact. Thursday's concert was a high-level holding action; the next one, as always, might be something else entirely."
Phish is in the midst of a bunch of residency shows, dotting the east coast. In a couple short weeks, they'll be rocking Hampton, Virginia for a 3-day extravaganza (October 18-20). They then hit Rochester (10/22) and Glen Falls (10/23) before digging in for a 2-day excursion in Worcester, Massachussetts (October 25-26). Hartford (10/27) and Reading (10/29) await before they hit Atlantic City for a 3-day stretch (October 31 – November 2).