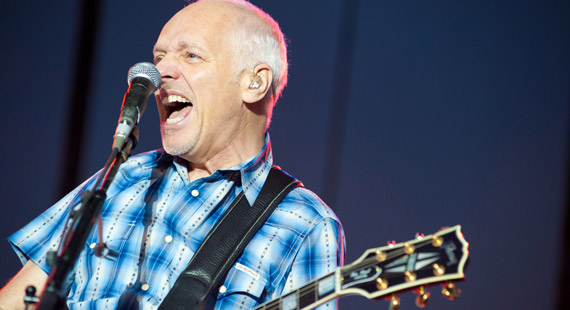 Randy Miramontez | Shutterstock
Peter Frampton to Tour with B.B. King, Other Elite Guitarists in 2013
Peter Frampton will gather B.B. King along with other great guitarists for his Peter Frampton's Guitar Circus touring event next summer.
King is the first artist to sign on to the tour, and will travel with Frampton during three weeks in August. Frampton says he intends to bring in special guests for various periods of time throughout the summer, and that he will adjust his style to that of his guests. No other dates or artists have yet been announced, but Frampton recently spoke to Billboard after performing his classic "Baby I Love Your Way" on "The Voice" with Terry McDermott.
"I'm so honored," he said of touring with King. "I can't wait to speak to him and thank him."
The news comes just after King revealed that he would be on the road for his own tour throughout the majority of the first half of next year. At 87-years-old, King still typically plays around 100 shows every year.
Frampton currently is promoting the 35th anniversary of his classic Frampton Comes Alive album. The record has been re-released as FCA! 35, and Frampton also spoke about the guitar that he played on that album that was thought to have been destroyed in a plane crash 30 years ago. It was recovered and returned to Frampton a year ago.
Frampton said that not only is the guitar in working order, "but I was recording with it this afternoon between dress rehearsals and the show. It's a surreal thing to have it back. It was the only electric guitar I had for 10 years – I couldn't afford to have multiples. It was all I played; it's a very important guitar to me."
Frampton Comes Alive is one of the best-selling live albums of all time, and strangely became the first album that gained Frampton any notoriety after four other, relatively unknown albums.