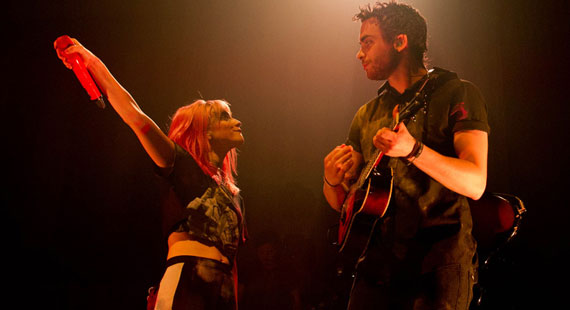 Mark Runyon | ConcertTour.org
Paramore Joins Fall Out Boy for Summer Monumentour
Paramore and Fall Out Boy have just revealed that they're planning on embarking on a co-headlining tour this summer.
The announcement came as part of a string of Twitter updates from Paramore lead singer Hayley Williams after the news had been leaked by some "bonehead." The Twitter updates looked like this. They still look like this:
"Yes. It's happening. Us & FOB coheadliner. Sucks some bonehead leaked it. We wanted to surprise you guys. Surprise, I guess! #MONUMENTOUR"
"Anyway. The same bonehead that already leaked the vid will surely be reposting it at it's INTENDED time pretty soon. So look out for dates."
"Lastly, thank you to both FOB & Paramore fans for begging us for years to make this tour happen… 'Bout damn time. This is monumental."
Fall Out Boy bassist and frontman Pete Wentz also got in on the Twitter party, posting a picture of a cat wearing a brown paper bag, with the caption "cats out of the bag-the rumors are true. Not the way it was supposed to go down-  tons more info bright & early tom."
The 'Monumentour' tour kicks off on June 19th in Hartford, Connecticut, and will see the bands make stops in Toronto, Buffalo, New York, Detroit, Chicago, Tampa, Atlanta, Phoenix and Denver, among other places, before wrapping up on August 17th in Concord, California.
Prior to their dates with Paramore, Fall Out Boy will embark on an arena tour of the UK in March, starting at Cardiff's Motorpoint Arena, and visiting, among other places, Birmingham, Manchester, Newcastle and Glasgow, with a show at London's Wembley Arena on March 20th. The band announced their reunion early last year, releasing a new album called Save Rock and Roll. Speaking to Rolling Stone about the album, Wentz said:
"We wanted something that was really raw. We still needed something where people felt the same feelings they had when they first listened to Fall Out Boy, but the music couldn't sound like the same music we'd done before. We've never been a band that plays it safe. We could have probably written "Sugar, We're Going Down" five times, but we never did."