The Dandy Warhols, who is currently tackling an Australian trek until October 4, has released a new slew of dates for a North American trail which will start and end in Portland, OR and will have the band cruising the US and Canada for two months throughout fall. The tour will kick off on October 16 and will close on December 12.
The trek supports the band's new release, an anthology of 14 of their greatest hits recorded under the wings of Capitol Records. The album is entitled "The Capitol Years: 1995-2007" and is a compilation of songs springing from the band's four records that have come out under the Capitol Records music label: "Come Down" (1996), "Thirteen Tales from Urban Bohemia" (2000), "Welcome to the Monkey House" (2003) and "Odditorium or Warlords of Mars" (2005).
By the time this article hits the press, Justin Townes Earle would have entered rehab after being involved in an assault while under the influence of alcohol and illegal drugs and resisting arrest, which resulted to his one-night stint in the slammer. He would have also pulled the plug off his current tour by now which would have had him perform all across the US and across the pond in the UK from today till mid-November.
Before JTE got in the middle of a public brawl in Indy that got him arrested, the Wall Street Journal's "Speakeasy" blog talked to the young musician about his craft, his life, his new album and his harsh words for the new brand of country music from the home of country music itself and his birthplace, Nashville.
With regards to his life in Nashville living in the shadow of his father, famed musician Steve Earle, there was always the pressure of becoming as successful as or even more successful than your parents, and then there were some who were just waiting for you to mess up and fail. "They wanted to see if I was going to come out, for lack of a better term, and be a Julian Lennon. Unfortunately, a lot of sons and daughters of established musicians can't live up to their famous parents and then they concentrate on it after that. That will destroy any career," he said.
Alt-rock vets Stone Temple Pilots just announced some late-breaking changes to their current itinerary which will now be moved altogether to October 8 with a new kick-off point in Tampa's St. Pete Times Forum.
Eleven stops from the previously announced tour schedule were affected by the change. Of the eleven, seven shows in the south and the Midwest have been removed from the list: two cities in Texas (El Paso and Lubbock), two cities in Oklahoma (Thackerville and Tulsa), Alpharetta, GA, St. Charles, MO and Simpsonville, SC, while the remaining four stops – Raleigh and Charlotte, NC and Austin and Corpus Christi, TX – were rescheduled to October 19, 20, 22 and 23, respectively.
Meanwhile, nine shows in the west coast and the north were added in place of the reshuffled and removed stops: five shows in California – San Diego, Santa Barbara, Los Angeles, Indio and San Francisco which are scheduled for October 26, 27, 29, 30 and November 1 respectively, Kent, WA on November 3 and three Canadian west coast stops – Vancouver, Calgary and Saskatoon – for November 4, 6, and 7 respectively. These shows will be followed by a short slew of Caribbean and South American shows in Mexico, The Bahamas, Peru and Colombia.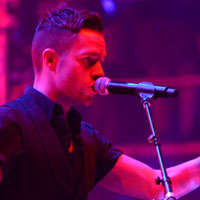 The Killers' lead vocalist Brandon Flowers will be going on tour in his home soil to back up his recently released studio set, his first as a solo act, "Flamingo" which hit European stores two weeks ago and surfaced in the US market a week later. Flowers will add 15 North American cities to his [...]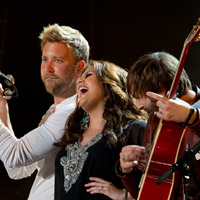 Maroon 5 spent the last three months hyping attention for their new album, "Hands All Over", by releasing one single at a time. Now with only days before the album finally hits stores and its third single hitting the airwaves and music channels as of yesterday, the said album is already on the internet – [...]
Canadian folk-pop legend Leonard Cohen will finally wrap up his world tour which has been going on for more than two years now, this year in Sin City.
According to AEG Live, promoter of the lengthy Cohen tour, the 76-year old musician will go back to the studio after his two-night engagement the Caesars Palace's Colosseum in Las Vegas on December 10 and 11, to gather new material for a new studio set and his follow-up to "Dear Heather", which came out in 2004. But expect this new set to come out years from now as Cohen is known to invest so much time – and we mean "so much" – in writing a single track, more so an entire album.
Touring isn't as lucrative as it was before.
This is what Live Nation, the world's premier event promoter and ticketing company, stressed during the Bank of America Merill Lynch Media, Communications and Entertainment Conference yesterday, September 16. Michael Rapino, CEO and President of Live Nation, addressed investors during the conference and explained point by point why the events promoter giant is planning to take drastic measures to cut their losses and gain more in the coming year.
First among their list of drastic measures is paying artists, including their managers and agents, less than what they are used to. The extent of the cut or which artists will be affected was not mentioned by Rapino but it was clear that what transpired this year in the touring industry was something the company did not expect. "We all thought that the theory that concerts are recession proof is true," Rapino said, "Going into 2010, we didn't expect the consumer pull back that happened," he added, referring to the sudden decline in ticket sales this year. It was sudden and unexpected because in 2009, the company still managed to rake in the big figures and pay its artists their usual quotes despite the peak of the recession that year.
This holiday season Andrea Bocelli, the Italian tenor, will be embarking on a six city special U.S. tour to support the deluxe DVD/CD combo version of "My Christmas," first released in 2009.
Bocelli, who has been nominated for a Grammy award, will kick off his outing with a performance at Madison Square Garden in New York City on December 2, followed by several arena shows across the country. Currently the short outing is scheduled to wrap up in Las Vegas on December 11.
According to a recent press release, conductor Eugene Kohn will be joining Bocelli for the shows, in addition to soprano Alexia Voulgaridou and Heather Headley, Tony Award winner.
Somewhere in the collective subconsciousness of ours there are echos and murmurs from a Ben Folds show. Whether you saw him during the '90′s with his band or you hate him because you went to see Folds with your ex girl friend or you never went but did have tickets, you are familiar with Folds on stage sitting at the piano. Whatever you opinion of Folds as a songwriter is, his live shows are sure to make you smile and offer some of the greatest sing along tunes.
Brush up on "Army's" horn part. This fall you'll be able to check out Ben Folds. He will hit the road to support "Lonely Avenue, his newest album and greatly anticipated collaboration with Nick Hornby, British author (An Education, About A Boy, High Fidelity). The tour will kick off at Riviera Theater in Chicago on November 5 and wrap up on November 27 with a benefit concert for the Nashville Symphony at the Tennessee Performing Arts Center in Nashville. Tickets can be purchased for the fall tour dates via Ticketmaster.
Neil Young's annual Bridge School Benefit, which is on its 24th year, will feature a reunion performance from Young's former rock country band, Rock and Roll Hall of Fame inductee Buffalo Springfield. Young will be teaming up with the original and only living band mates Richie Furay and Stephen Stills for the two-day headlining charity gig.
Joining the trio for the two day event are fellow rock country icons Merle Haggard, Kris Kristofferson, Pearl Jam who will be celebrating their 20th year in the biz with their appearance in the benefit, Grizzly Bear, Elvis Costello and Modest Mouse. Other artists such as Elton John, Lucinda Williams, Leon Russell, Billy Idol and Jackson Browne with David Lindley will also be performing in the said event but only in one of the two scheduled shows.