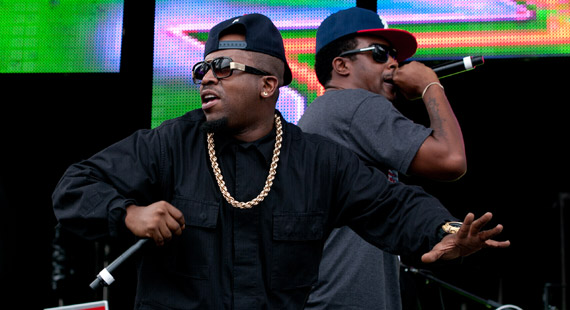 Mark Runyon | ConcertTour.org
Outkast Plotting 40 Festival Appearances in 2014
Legendary duo Outkast have just announced that they plan to celebrate the 20th anniversary of their debut album's release with a 40 date tour this year.
While the pair announced the plan on social media, the band have yet to release details of where or when said dates will take place. They were recently confirmed as one of the headliners for this year's Coachella festival.
Said headlining slot will mark the first time Andre "3000″ Benjamin and Antwan "Big Boi" Patton have performed together in 10 years.
"I am thankful to have been a part of a group that allowed me to explore anything that came to mind and have fun doing it," said Andre 3000 in a statement.
"Returning to the stage together is the most exciting way for us to thank everyone for their 20 years of supporting Outkast."
Big Boi added: "It's truly an honor to celebrate 20 years and still be free to do music the way we choose. Don't just think outside the box, know that there is no box. I'm looking forward to rocking the stage with my Bro Ski and to all the fans — stank you smelly much, this is for y'all!" Who knows what that means.
Although the pair never underwent the obligatory official band break up, Outkast unofficially split after the 2006 release of Idlewild.
Patton meanwhile has released two solo albums in 2010 and 2012, while Benjamin has been acting and making occasional musical guest appearances.
While many Outkast fans are likely to be disappointed by the quick sell out of this year's Coachella festival tickets, this news is likely to come as a pleasant surprise, given that it will allow many fans of the duo to see them perform live for the first time in over 10 years.