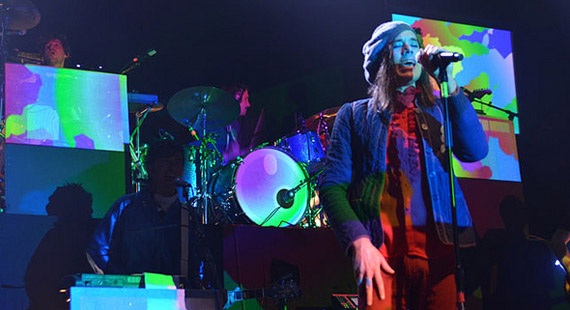 Mark Runyon | ConcertTour.org
of Montreal Roll Out Fall Tour Dates
Earlier this month, Of Montreal announced its upcoming 12th studio album, and now the group has revealed a new fall tour to support the record.
The new trek will kick off with a hometown show in Athens, Ga. at the 40 Watt Club on October 18, and will continue through a November 17 show at Terminal West in Atlanta. But if you live outside of Georgia, fear not: the band will travel all over the country in the time between those dates. Where exactly? Washington, D.C.; Brooklyn; Chicago; Omaha; Salt Lake City; Portland, Ore.; San Francisco and more.
lousy with sylvianbriar will be the 12th studio album by the group, and is set for an October 8 release. Kevin Barnes, the group's frontman says the new album is a more stripped down affair than many of the previous releases from the group.
"I knew I wanted the process to be more in line with the way people used to make albums in the late 60s and early 70s," Barnes said, according to Paste magazine. "I wanted to work fast and to maintain a high level of spontaneity and immediacy. I wanted the songs to be more lyric-driven, and for the instrumental arrangements to be understated and uncluttered."
Barnes, the group's only consistent member since it formed in the mid-90s, often records the group's records entirely on his own, though he's had a pretty consistent touring lineup over the past few years. However, the album was recorded primarily with other collaborators.
I guess the new album is either exciting or a turnoff depending on your favorite period from the band's career. Fans of the more recent slick productions may be a little disappointed, while those that enjoy the more stripped down twee of the group's early work may see it as a welcome return. Regardless, it's always refreshing to see a band not afraid to change things up from album to album. And Kevin Barnes is not afraid.