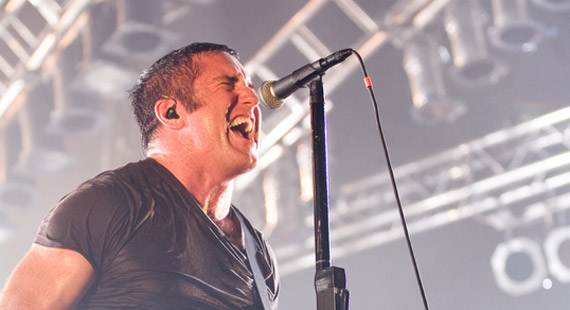 Ferenc Szelepcsenyi / Shutterstock
Nine Inch Nails Set for Arena Tour in Fall, World Tour Through 2014
Trent Reznor apparently doesn't mind upstaging himself – with just a week and a day to go before the release of the debut studio full-length from his group How to Destroy Angels, he announced that he is getting his most well-known band back together.
Nine Inch Nails will tour this year.
Pitchfork posted a statement titled "Note from Trent" that announces a Nine Inch Nails that has been reinvented from "scratch":
I was working with Adrian Belew on some musical ideas, which led to some discussion on performing, which led to some beard-scratching, which (many steps later) led to the decision to re-think the idea of what Nine Inch Nails could be, and the idea of playing a show. Calls were made to some friends, lots of new ideas were discussed, and a show was booked – which led to another, which somehow led to a lot of shows.
The band is reinventing itself from scratch and will be comprised of Eric Avery, Adrian Belew, Alessandro Cortini, Josh Eustis, Ilan Rubin, and me. The first shows will begin this summer, followed by a full-on arena tour of the US this fall, and lots of other dates worldwide to follow through 2014.
Lots of details and dates to come. See you soon.
TR
And that's basically all we know at this point, though Billboard is reporting that sources are saying the group will appear at this year's Lollapalooza show in Chicago. About four years ago, Reznor announced that Nine Inch Nails should "disappear for a while," and in the meantime he has been working with the aforementioned How to Destroy Angels. The forthcoming new album from that group is Welcome to oblivion and is out March 5.
Reznor also has been writing film scores. He and his musical partner Atticus Ross wrote the score for "The Girl with the Dragon Tattoo," and he won an Academy Award and a Golden Globe for his score of "The Social Network."