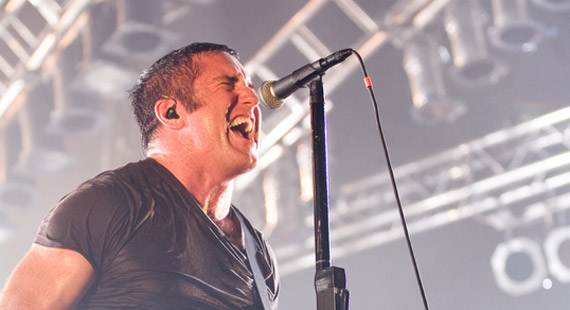 Ferenc Szelepcsenyi / Shutterstock
Nine Inch Nails 'Hesitation Marks' Available for Free Stream
It's here, everybody and as is often the way in our modern technologically-advanced and interconnected times, it's available a week before its official release as a free stream on iTunes. What is it? I'll tell you. It's Nine Inch Nails' new album, Hesitation Marks.
Hesitation Marks is Nine Inch Nails' eighth studio album, and the follow-up to 2008′s The Slip. Long-time Trent Reznor collaborators Atticus Ross and Alan Moulder show up, along with a couple more unexpected contributors, including Fleetwood Mac's Lindsey Buckingham, bassist Pino Palladino and Adrian Belew.
Reznor recently told The Guardian that the new album signified a reborn Trent Reznor, this time free of his signature misanthropy and general pessimism. Or, rather, without what he himself described as,
"an unending bottomless pit of rage and self-loathing inside me … And I'm happy that I don't feel that way any more. I've learned to recognise, a lot of it forced through the process of recovery, that I'm wired wrong in certain ways, the chemical balance of my brain is off in terms of depression a little bit. This record was written as the other side of that journey. The despair and loneliness and rage and isolation and the not-fitting-in aspect that still is in me, but I can express that in a way that feels more appropriate to who I am now. And often that rage is quieter."
I'm glad that rage isn't that noisy anymore, Trent.
The album was recorded mostly under a veil of the darkest darkness (aren't all of their albums?) with Reznor only publically announcing the thing in May of this year, but the industrial legends have recently been circulating singles "Copy of A" and "Came Back Haunted", as well as behind-the-scenes clips and images, presumably to get people psyched, but also to be nice to their fans. You can stream the album here.