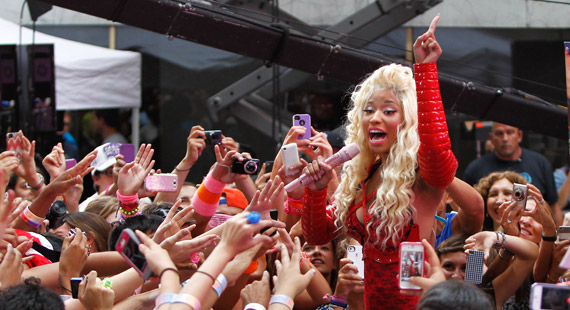 Debby Wong / Shutterstock
Nicki Minaj Pushs Back Australia, New Zealand Tour Dates
Last week, Nicki Minaj announced that she would postpone her upcoming Australia and New Zealand dates on her current "Pink Friday Reloaded Tour," and now new dates have been released.
"Barbz, I now have 2 start the Fall tour a bit later than originally planned," she told her fans (which she calls "Barbz") on Twitter last week. "I will now END the tour where I was originally planning 2 BEGIN."
The dates in the two countries, which were originally planned for September and October, have now been pushed back to November and December. The shows down under will kick off in Auckland, New Zealand on November 24, and are scheduled to run through December 8, when Minaj will appear at the Perth Arena in Perth, Australia. In between, she will also play concerts at arenas in Adelaide, Sydney, Brisband and Melbourne.
LiveNation, the promoter for the Minaj headlining tour, blamed the postponement on "international scheduling conflicts." Minaj also hinted that fans will be rewarded for the longer wait they will have to endure.
"Thank you for your patience," she also tweeted. "Sorry for any inconvenience my darlingz. When the barbz find out 'why' I'm starting the fall tour a little bit later, they will be VERY happy. secretgang."
Minaj is currently in the midst of the North American leg of the worldwide headlining tour, which will run through August 12. This is the first time the artist has undertaken a headlining tour of the U.S.
The world tour is supporting Minaj's sophomore album, Pink Friday: Roman Reloaded, which was released on April 3 and debuted at number one on the charts in the U.S., Canada and the U.K., as well as many other countries around the world. The record has guest spots from notable artists including Lil Wayne, Rick Ross, Drake, Young Jeezy, Nas and Cam'ron, among others.