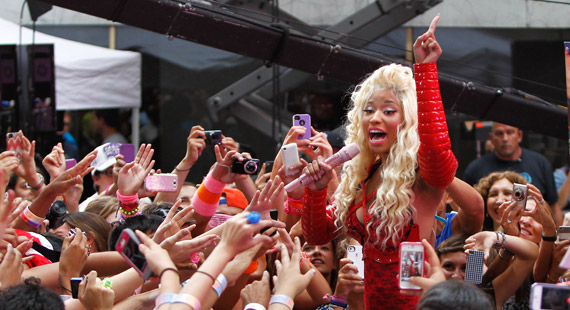 Debby Wong / Shutterstock
Nicki Minaj, Keith Urban Complete 'American Idol' Judges Panel
After months of speculation, the final judges lineup for the upcoming 12th season of "American Idol" has finally been confirmed.
Nicki Minaj and Keith Urban were the final additions to the judges table, joining Mariah Carey and Randy Jackson. Jackson is now the only remaining original judge, and prior to the confirmation it had been rumored that he might transition to a different role in the show. Ryan Seacrest will remain the host of the show, and he posted the first official photo of the new judges on his Facebook wall.
"After some musical chairs, here's how the new "American Idol" judges will be seated," Seacrest wrote.
He also tweeted the news before the new judges made an appearance in New York over the weekend.
"It's official, your new #IdolJudges are @MariahCarey, @NickiMinaj, @KeithUrban & @Yo_RandyJackson!," he tweeted.
"Everyone gave a heartfelt toast about being on the show after we ate last night," he later continued. "Cant wait to see the first contestants today. #IdolJudges."
Mike Darnell, Fox president of Alternative Entertainment, expressed his excitement about the announcement in a statement.
"I am thrilled about this year's judges panel," Darnell said. "With an unparalleled star like Mariah, fan-favorite Randy, chart-toppers like Nicki and Keith and our incomparable host Ryan, we've put together one of the most exciting judging panels around."
The show may need an exciting panel to continue its reality music competition dominance. Though it remains a ratings leader, those ratings have been continuously falling in recent seasons of the show. Additionally, the show is getting increased pressure from its fellow Fox show "The X Factor," who recently added Britney Spears and Demi Lovato as judges. The show's NBC competition, "The Voice," features Christina Aguilera, Cee Lo Green, Blake Shelton and Maroon 5 lead singer Adam Levine as its judges.