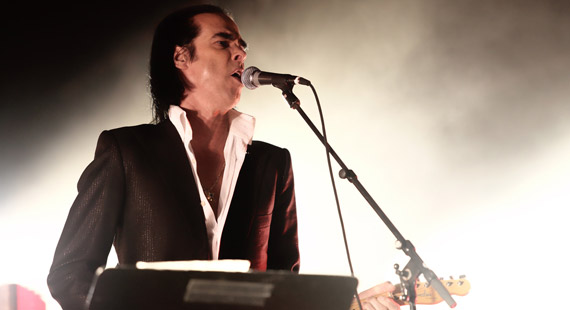 Nikola Spasenoski | Shutterstock
Nick Cave Takes the Bad Seeds on Spring Tour
Nick Cave and the Bad Seeds will hit the road next spring to celebrate the upcoming release of Cave's 15th studio album.
The tour will kick off March 14, 2013 at the McFarlin Memorial Auditorium in Dallas, and is scheduled to continue through a Denver show at the Odgen Theatre on April 3. Other cities the tour will visit include Nashville, Montreal, Toronto, Boston, New York and Chicago. Sharon Van Etten will open all dates.
Cave's new album, Push the Sky Away, will be released about a month before the tour starts on February 18.
"If I were to use that threadbare metaphor of albums being like children, then Push the Sky Away is the ghost-baby in the incubator and [guitarist] Warren [Ellis]'s loops are its tiny, trembling heart-beat," Cave said, according to Gibson.com.
The albums was recorded in a 19th century mansion in the south of France, where it was produced by Nick Launay.
"These songs convey how on the Internet profoundly significant events, momentary fads and mystically-tinged absurdities sit side by side and question how we might recognize and assign weight to what's genuinely important," Cave said.
When released, the album will be available in quite a few formats, including CD, vinyl, deluxe CD and DVD. Additionally, a Super Deluxe Box Set will include the CD, vinyl DVD and special visuals created by Iain Forsyth and Jane Pollard. The special set also comes with two 7" vinyl records of non-album bonus tracks and a 120-page replica of Cave's handwritten notebooks. Though purchasers of the box set will get a digital copy of the album on its February 18 release date, the set is not expected to be delivered until April 2013.
Nick Cave and the Bad Seeds haven't released a record since 2008′s critically acclaimed Dig, Lazarus, Dig!!!. In the meantime, however, Cave's side project Grinderman released their aptly titled sophomore album, Grinderman 2.