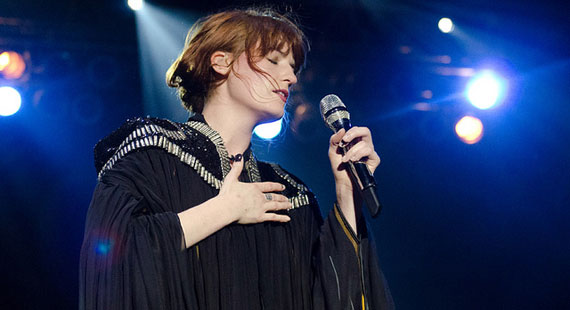 Mark Runyon | ConcertTour.org
New Florence and the Machine Album Coming in November
Florence Welch has kept her promise to her fans of giving them a peek at something really special when she released the first track off her follow-up album to "Lungs," her hit debut set.
On Tuesday the British singer debuted "What the Water Gave Me" on her official website off her still unnamed disc. Paul Epworth produced the album and it was recorded at Abbey Road studios. The set is scheduled to be released on November 7 in the U.K., followed by a U.S. release also slated for November.
On "What the Water Gave Me," Welch sticks to the elements that made "Lungs" as well as the songs "Kiss With a Fist" and "Dog Days Are Over" such hits: tribal chants and harmonies rooted in gospel on top of intense lyrics and ethereal harp strings.
"Lungs" made its debut on U.K. Albums chart in the No. 2 spot. In 2009 it was the top selling release from a new artist. In October 2009 the set was released in the U.S. quietly. Following her American television debut at MTV's Video Music Awards in 2010, the album had a massive surge in sales. The set rose to No. 14 from No. 44 on Billboard's U.S. 200 chart. According to data from Nielsen SoundScan the album has sold a total of 738,000 U.S. copies.