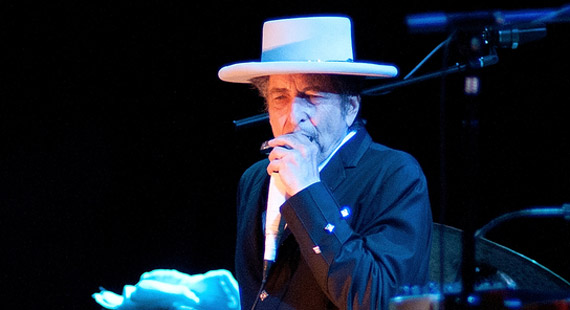 Christian Bertrand / Shutterstock.com
Never Ending Tour Lives On as Bob Dylan Keeps Rolling into April
Bob Dylan wasn't kidding around when he dubbed his current tour the "Never Ending Tour." After all, he did that in 1988.
OK, let the record show that Dylan himself didn't actually decide to name the tour, but he has been on the same tour, so he says, since 1988. And newly announced dates will keep the trek rolling at least through this April.
The first of the new concerts will be held April 5 in Buffalo at the SUNY Buffalo Alumni Arena, and the final announced show will be held at Bowling Green State University in Bowling Green, Ohio. Other cities Dylan and his band will visit include Amherst, Massachusetts; Kingston, Rhode Island; Lewiston, Maine; Ithaca, New York; Bethlehem, Pennsylvania; Akron, Ohio and Kalamazoo, Michigan.
Folk rockers Dawes will support Dylan at all the shows for the spring jaunt.
In other Dylan news, it was recently announced that he will release a new single for Record Store Day this April. The single features a formerly unreleased demo version of "Wigwam," as well as a previously unreleased song, "Thirsty Boots."
"Wigwam" originally appeared on the 1970 album Self-Portrait, which is considered genius or trash depending on who you ask. Or maybe even what mood you're in when you listen to it. "Thirsty Boots" is an Eric Andersen cover. The 7″ vinyl will be released on Record Store Day, which is April 20 this year.
Record Store Dates is held each year to benefit independent record stores around the world. Dylan is just one of a slew of well-known artists releasing exclusive music to benefit the cause.
Dylan released his 35th album, Tempest, last September, and spent much of last fall on the road with former Dire Straits frontman Mark Knopfler. The album debuted at number three on the Billboard 200 albums chart.