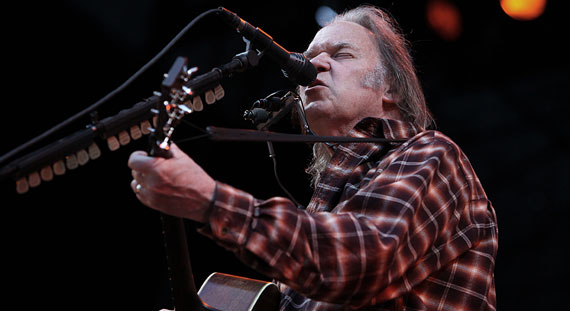 http://concerttour.org/images/neil_young_600.jpg
Neil Young, Tom Waits, Alice Cooper Get Rock N Roll Hall of Fame Induction
At the Induction Ceremony for the Rock and Roll Hall of Fame last night in New York City, Alice Cooper was inducted by Rob Zombie, Neil Diamond was welcomed by Paul Simon, Dr. John was inducted by John Legend, Tom Waits was inducted by Neil Young, Darlene Love was brought in by Bette Middler and Leon Russell was inducted by Elton John.
Waits, who is never without his snappy one linesr, was last night in rare form. He described his songs being very interesting things that could be done with air. He quipped, they say I'm hard to work with and have no hits. They say that as if that's a bad thing. He performed "House Where Nobody Lives," "Rain Dogs" and "Make It Rain."
While inducting Waits Neil Young said, this man is indescribable. I am here to try to describe him for you. This man's a great performer, singer, magician actor, changeling and spirit guide.
Paul Simon describing Neil Diamond said, he was called a Jewish Elvis Presley. In many synagogues in fact Elvis was considered to be a fake Neil Diamond.
"Sweet Caroline" was performed by Diamond. Robbie Robertson and Bruce Springsteenjoined him and later on The Crystals song "Da Doo Ron Ron" was joined by Bette Middler, Dr. John, Leon Russell, Elton John, Darlene Love and Alice Cooper.
Fuse TV will be showing Tom Waits' Induction ceremony performance at 9 pm EDT on March 20.