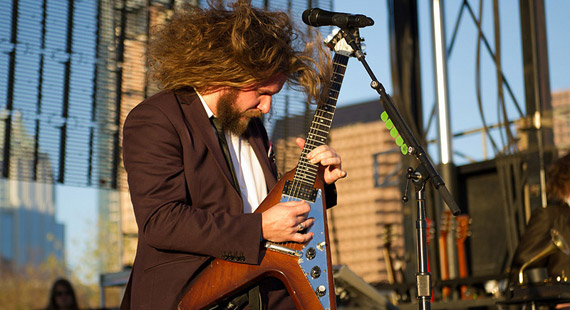 Mark Runyon | ConcertTour.org
My Morning Jacket Closes 2012 with New York, Boston Shows
My Morning Jacket will celebrate the birth of 2013 with three shows in New York state and one in Boston.
The New York shows will be held at the recently renovated and reopened Capitol Theatre in Port Chester, N.Y. on December 27-29. The short residency is part of the band's "Spontaneous Curation Series," which means that no song will be played more than once during the three night engagement.
Then the group will travel to Boston for a New Year's Eve show at the Agganis Arena. At this special show, the band will be supported by the Preservation Hall Jazz Band and the concert will not be "part of the Spontaneous Curation Series in order to ensure an event full of surprises," according to the band's official website.
My Morning Jacket has been holding the "Spontaneous Curation Series" at various cities for some time now. In addition to no song being played twice, the set list of these shows are largely determined by fans. A few days before each show, the band requests that fans tweet in song requests for specific concerts.
The band's next stop in the series begins tonight (9/11) at the Wiltern in Los Angeles, and they also will perform at the venue over the next two nights. On September 15 the group will head up the west coast to play the Greek Theatre in Berkeley, Calif. The only other shows currently scheduled between now and the Capitol Theatre shows are three festival dates, the Soundland Festival in Nashville on October 6 and then the Auditorio Blackberry festival in Mexico City on October 12 and the Corona Capital Festival on October 14. The latter is also south of the border in Mexico City.
This past Friday, the band played at Marymoor Park in Redmond, Wash., and during an encore brought out original guitarist Johnny Quaid to play on a few songs. He played was part of the MMJ fold from 1998-2004.