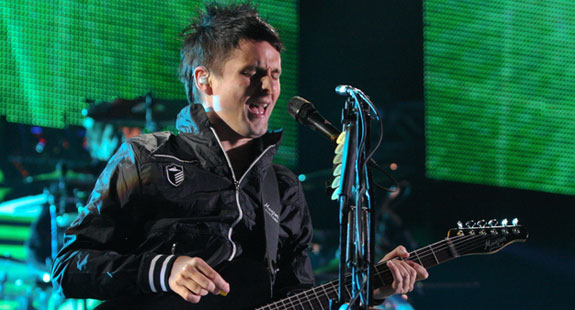 Mark III Photonics | Shutterstock
Muse Announce Initial 2013 North America Tour Dates
It has been more than four months since Muse announced a European tour to support their new album, and the group has finally gotten around to announcing some North American dates.
The North American shows are the first the band has scheduled so far for 2013, and will kick off February 3, 2013 in Edmonton, Alberta, Canada. In fact, the majority of the nine-shows of the newly announced leg  will be in Canada, and the trek is scheduled to end on April 26 with a show at the Colisee Pepsi in Quebec City. In between, the group also will visit Calgary, Vancouver, Detroit, Toronto, New York, Montreal and East Rutherford, N.J.
The band's official website states that fans should "Stay tuned for additional tour announcements," and with the large gaps of time between many of the dates of the announced North American tour, there is a lot of room to add additional shows if Muse so desires.
Known for their expansive live stage performances, members of the band indicate fans will not be disappointed with the upcoming stage show. Drummer Dom Howard recently spoke about the show to BBC Newsbeat.
"We made this huge upside down pyramid, which is made out of LED screens so we can put visuals on it," Howard said. "Basically this screen moves and can morph into different shapes. It will come down and completely consume me on my drum kit."
Howard also said that fans can expect "dancing aliens on stage" and "me doing some kung-fu at some point onstage."
Singer Matt Bellamy spoke about the upcoming shows recently to the Telegraph, saying that he thinks the most important part of the show is that humans are actually performing.
"People will pay money to see someone with a laptop who's done all the experimentation at home and pretty much just hits the spacebar," he said. "There is a part of us that is definitely clinging to the organic, human side of music, to honor our friendship and the fact that we want to play together in a room."