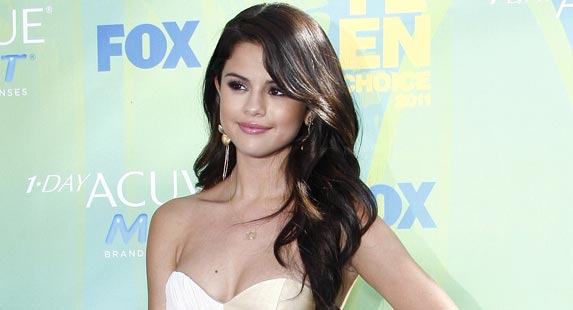 Joe Seer | Shutterstock
Miley Cyrus, Selena Gomez, Enrique Iglesias Get Festive with Jingle Ball 2013 Tour
Jingle Ball, the annual Christmas celebration hosted by such pop stations as New York's Z100 and Los Angeles' KIIS-FM, is set to take its festive holiday-flavored show on the road.
Clear Channel, via its iHeartRadio app, is set to host a series of Jingle Ball concerts in Dallas, Philadelphia, Los Angeles, Seattle, Chicago, Minneapolis, Atlanta, New York, Boston, Washington D.C., Tampa and Miami.
Miley Cyrus, Robin Thicke, Ariana Grande, Austin Mahone, Flo Rida, Selena Gomez, Enrique Iglesias, Jason Derulo, Fifth Harmony, and One Republic are just some of the mega acts due to make appearances somewhere along the cleverly-titled Jingle Ball's sleigh ride. Furthermore, the Z100 concert will be featured on the CW Network as a two-hour special airing on December 18th, which means the whole nation will be able to watch Robin Thicke and Miley Cyrus in their twerking glory all over again.
[Sidenote: Am I the only one surprised that Miley Cyrus and Robin Thicke are happy to appear at the same place at the same time after the whole VMAs fiasco? Furthermore, am I the only one who thought he looked really terrified of Cyrus the first time on the merry-go-round?]
The trek is set to kick off on December 2nd in Dallas and due to end on December 20th in Miami, with one more date still TBA. Here are the current dates we have:
Dallas­
Monday, December 2nd at American Airlines Center
Philadelphia
Wednesday, December 4th at Wells Fargo Center
Los Angeles
Friday, December 6th, at Staples Center
Seattle
Sunday, December 8th, at Comcast Arena
Chicago­
Monday, December 9th at United Center
Minneapolis­
Tuesday, December 10th at Xcel Energy Center
Atlanta, Georgia
Wednesday, December 11th at Philips Arena
New York City
Friday, December 13th at Madison Square Garden
Boston
Saturday, December 14th at TD Bank Garden
Washington, D.C. ­
Monday, December 16th at Verizon Center
Tampa Bay
Wednesday, December 18th at Tampa Bay Times Forum
Miami
Friday, December 20th, at BB&T Center