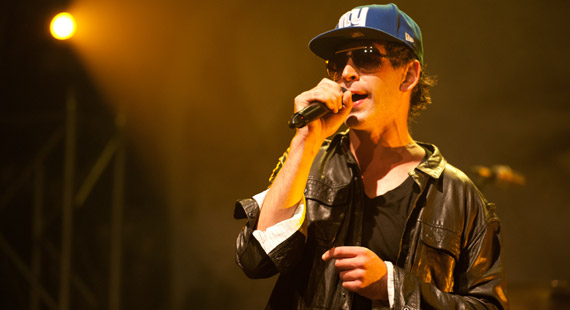 Mark Runyon | ConcertTour.org
Matisyahu Goes All Acoustic with Holiday Festival of Light Tour
Matisyahu is bringing his Festival of Lights Holiday celebration back on the road this year, with shows in Chicago, Buffalo, Boston and New Jersey, among others.
The unconventional reggae star's Festival of Lights has a distinctly festive feel, as a musical celebration of Hanukkah and the musician's faith.
Matisyahu courted both controversy and perplexment a couple of years ago, after he posted a picture of himself on Twitter without his signature beard, proclaiming:
"No more Chassidic reggae superstar. Sorry folks, all you get is me…no alias.
When I started becoming religious 10 years ago it was a very natural and organic process.  It was my choice.  My journey: to discover my roots and explore Jewish spirituality—not through books but through real life.  At a certain point I felt the need to submit to a higher level of religiosity…to move away from my intuition and to accept an ultimate truth.  I felt that in order to become a good person I needed rules—lots of them—or else I would somehow fall apart.  I am reclaiming myself.  Trusting my goodness and my divine mission.
Get ready for an amazing year filled with music of rebirth.  And for those concerned with my naked face, don't worry…
you haven't seen the last of my facial hair."
The comments provoked speculation from the Jewish community, and his musical fans alike, but if I'm honest I don't know why people aren't more interested in the section in italics, which sounds part-threat and part-hope. Really, Matisyahu: WHAT DOES IT MEAN?
Anyway, before I go off on a complete tangent, let's get back to those dates, which look like this:
>11/30 – Chicago, Illinois – Riviera Theatre
>12/1 – Kalamazoo, Michigan – State Theatre
>12/2 – Buffalo, New York – Town Ballroom
>12/3 – Providence, Rhode Island – Lupo's Heartbreak Hotel
>12/5 – West Long Branch, New Jersey – Pollak Theatre
>12/7 – Boston, Massachusetts – House Of Blues
>12/8 – New York, New York – Webster Hall
>12/9 – Washington, DC – 930 Club
Matisyahu promises an acoustic experience for fans, mirroring a short tour the star participated in at the beginning of the year.
Before heading back to US shores, however, Matisyahu has more than one continent to cover, with tours spanning Israel, Mexico and South America between late September and November, so he's going to be filling up his passport in record fashion.