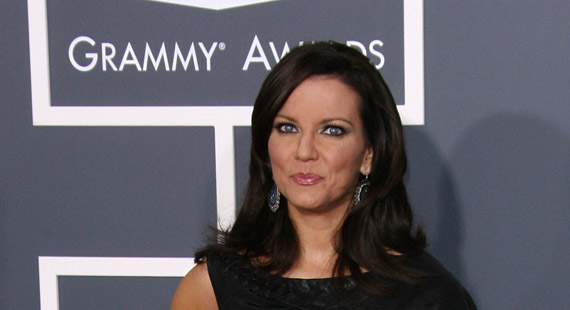 s_bukley / Shutterstock
Martina McBride Wrangles Rudolph for the Joy of Christmas Tour
Country star Martina McBride has filled out her Fall/Winter calendar with a series of holiday shows which she's given the imaginative title of the "Joy of Christmas" tour.
The singer plans to finish up her slate of current schedule dates, with a show on the 28th of this month in Atlanta, before playing a number of casino shows in the South throughout October. She's also slated to make a special appearance at Nashville's iconic Bluebird Cafe on October 1st.
The "Joy of Christmas" shows look a little like this:
>11/9 – Jacksonville, Florida – Jacksonville Veterans Memorial Arena
>11/29 – Huntington, West Virginia – Big Sandy Superstore Arena
>11/30 – Louisville, Kentucky – The Louisville Palace
>12/4 – Nashville, Tennessee – Ryman Auditorium
>12/7 – La Crosse, Wisconsin – La Crosse Center
>12/8 – Sioux City, Indiana – Orpheum Theatre
>12/12 – Muncie, Idaho – Emens Auditorium
>12/20 – Bloomington, Illinois – U.S. Cellular Coliseum
>12/21 – Chicago, Illinois, US – Rosemont Theatre
Her press release goes on to tout her lengthy resume:
"McBride has been named Country Music Association's female vocalist of the year four times. She has a Grammy Award, been featured on shows such as VH1′s "Divas," "American Idol" and "Dancing with the Stars." Her latest album, Eleven, was released in 2011."
McBride is also set to release The Essential Martina McBride, which features 40 of her biggest hits, and according to a recent interview, McBride is working on new material scheduled for released in early 2014:
"It's gonna be awesome," McBride said. "We're feverishly working on it and getting it done. I'm really really excited to be back in the studio making new music."
So it looks like Martina will be spreading the holiday cheer in more ways than one. Just stay away from the egg nog.