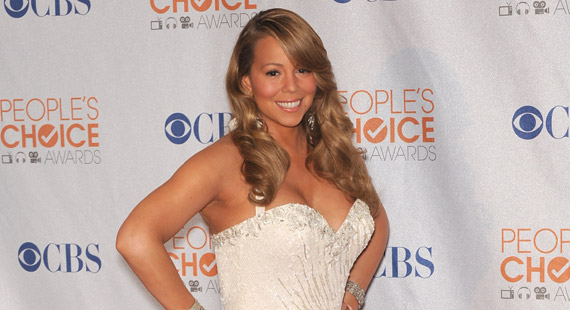 Jaguar PS / Shutterstock
Mariah Carey Set to Release New Album in 2012
Much of the latest news regarding Mariah Carey has been focused on her recent weight loss and subsequent appearance on the cover of the May issue of Shape magazine. But in the interview with the magazine, Carey also reveals that she's working on new music and hopes to have a new album out this year.
"I've started writing songs for a new album, which I hope will come out in 2012," she told the magazine. "Getting back in the studio and making music – which I truly love doing – is the best way to end this crazy year."
The "crazy year" the pop singer speaks of includes both her own health problems as well as her husband Nick Cannon's recent health scares.
Carey experienced a pregnancy filled with health problems last year, and the subsequent loss of her pregnancy weight is what has gained the singer headlines.
"I put on around 70 pounds, but if you look at photos of me when I was pregnant, you'd say, 'Wow, she gained 9,000 pounds!,'" Carey told Shape. "A lot of it was water weight because I pretty much had head-to-toe edema, which is very painful."
She went on to say that she had used the Jenny Craig program to lose the weight.
"I used to be able to slim down just by exercising more, but that's changed. Since having the babies, I realize that 90 percent of losing weight is my diet," she continued. "Today my workout routine is more about getting and staying toned."
Cannon is also dealing with health problems after he was diagnosed with kidney failure and lupus last year.
Carey hasn't released an original studio album since 2009's Memoirs of an Imperfect Angel, which debuted at number three on the Billboard 200 albums chart. She did, however, release a second Christmas album, Merry Christmas II You, in 2010.
Carey and Cannon have been married since 2008.