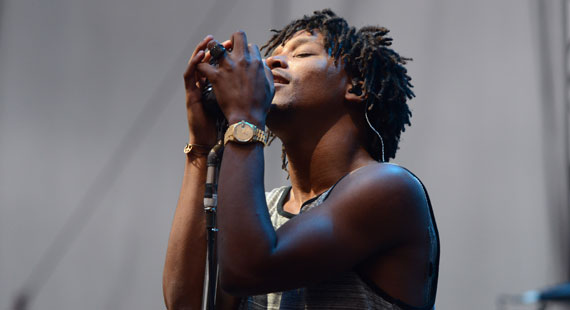 Mark Runyon | ConcertTour.org
Lupe Fiasco Previews 'Tetsuo and Youth' on Fall Tour
Lupe Fiasco has been working tirelessly in the studio for [insert large number] months working on his upcoming album Tetsuo and Youth but he's taking a short reprieve from the mix deck for a string of U.S. tour dates set for the fall/winter.
The "Tetsuo and Youth preview tour" is set to last a month and a half, kicking off on November 2nd in Atlanta, after which the soulful rapper is set to make stops in a number of major markets, including Houston, San Diego, San Francisco, Seattle, Chicago, Boston, New York, and Washington D.C, before wrapping up on December 15th in Baltimore.
Lupe Fiasco is currently touring in support of his latest album Food and Liquor II: the Great American Rap Album, which was released last year. Tetsuo and Youth will be Lupe's sixth album, and while I'm sure we're all excited to hear it, I'm almost more excited to see what he has to say about it on his website homepage blurb. This is what he says about the other five:
"The greatest art is the purest art. Six years, three albums: the lyrical dissertation
Food & Liquor (2006), its thematic successor The Cool (2009) and controversy-drenched LASERS (2011).
Now, Food & Liquor 2: The Great American Rap Album.
Much more than a mere sequel; instead, equal halves American history documentary and honor roll rap skill exhibition.Your average Hip-Hop album features a tall guest list and short stack of truth. F&L2 offers a welcomed imbalance of features to facts."
What does it mean?
Lupe Fiasco has remained in the public consciousness fairly regularly over the past year thanks to his anti-Obama Twitter rants, and perhaps more notably, his response to Kendrick Lamar's "I am the best rapper" verse. If you didn't catch Lamar's industry call out, check this article out.
Lupe's rattled off many Tweets, but these were my favorites:
"Lets adress before it gets out of hand. I really don't want to but f–k it. We all rap. Some of us just rap to rap but others of us RAP."
"So when somebody who RAPS raps about RAPS and RAPPERS who RAP hear the RAPPERS rap about RAP but its just rap RAPPERS be like really??!"
Really indeed.