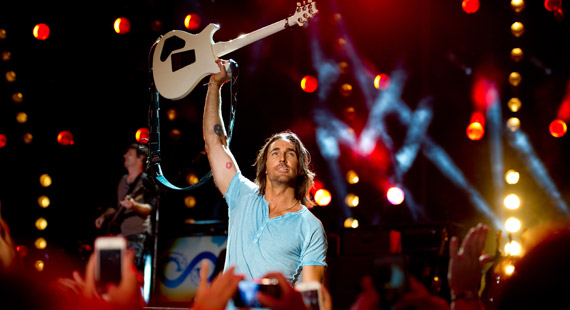 Mark Runyon | ConcertTour.org
Luke Bryan, Lynyrd Skynyrd, Jake Owen Join 2013 Toadlick Festival Lineup
The initial artists for the 2013 Toadlick Music Festival have been announced, and Luke Bryan, Lynyrd Skynyrd and Jake Owen will be performing at the festival.
The country music festival is now in its second year and will be held in Dothan, Ala. on April 11-13, 2013. The event will be held at the National Peanut Festival Fairgrounds.
Other confirmed artists that will appear at the festival are Gretchen Wilson, Chris Young and Thompson Square. The official Toadlick website promises that more artists will be announced soon.
The site also announced that last year's event drew more than 31,000 concertgoers to the small Alabama town, despite some inclement weather throughout the festival.
"This year's Toadlick Music Festival promises to be even better with events, camping, attractions, and some of the biggest names in Country Music, Rock and Southern Rock performing throughout three fun-filled days and nights," reports the website.
While general admission three-day passes cost $79 each, the festival also offers T.I.P. three-day passes, which are similar to V.I.P. passes but stand for "Toadally Important Person."
"T.I.P.'s receive free parking and access to premium reserved seating," says the website. "Plus you'll enjoy the privileges of the T.I.P. Tent, including the T.I.P. Lounge, cool-down area, luxury air-conditioned restrooms, free ice, goodie bags, T-shirts, and other perks that make this event an exceptional experience."
T.I.P. passes cost $299 each. Camping is extra for both types of tickets, and costs between $50 and $2,000, depending on your camping preferences.
This article should probably include information on why the festival is called "Toadlick." Organizers thought it was important enough to make it the only FAQ on the site. Turns out it came about when the founders were brainstorming a name for the festival.
"All kinds of names were popping up when one young lady hollered 'Toadlick,'" reads the FAQ section. "We all sat there and pondered it for a while and realized she had indeed stumbled across the perfect name."