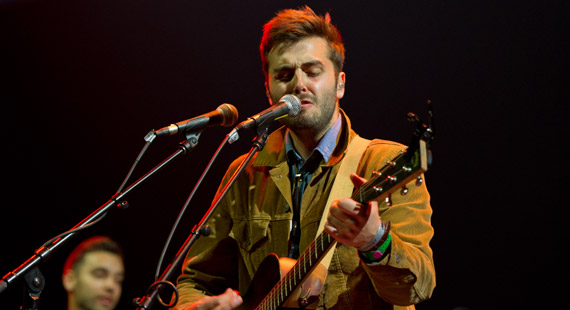 Mark Runyon | ConcertTour.org
Lord Huron Closes Alt-J Tour for Headlining Trek
Indie-folk outfit Lord Huron are set to embark on their biggest North American tour yet.
The six week headlining trek is set to kick off next January with a show in Portland on the 22nd, after which they're set to make stops in Seattle, Detroit, Boston, New York, Philadelphia, New Orleans, Denver, and Salt Lake City, before wrapping up on March 1st in Los Angeles.
It's been a busy year for Lord Huron, who have just closed out a large tour with British art-rockers Alt-J, a large-scale U.K. run, numerous sold out shows nationwide, and festival appearances at Coachella, Bonnaroo, Firefly, SXSW and Newport Folk Festival, among others.
The band's debut album, Lonesome Dreams, garnered widespread critical praise, with USA Today saying, "the indie-folk band paints a vivid landscape with upbeat, warm melodies and the dreamy vocals," and The New York Times describing their music as, "pretty, multilayered Americana strumming and harmonizing."
Lord Huron is the lovechild of Ben Schneider and began as a visual/musical/artistic/hipstery solo project through which he could channel his own imagination, though the band now features collaboration from Mark Barry (percussion, vocals), Miguel Briseno (bass, percussion), and Tom Renaud (guitar, vocals.)
If you ever wondered where the band's name came from or Schneider's background, check out this snippet from their press release.
"Schneider started playing music as a child-most often on summer nights around the campfire on Lake Huron. He went on to study art in college and lived in France and New York before moving to Los Angeles in 2005 to pursue a career in the visual arts. Schneider's passion for art and music are often intertwined, and he has composed music for various visual art projects over the years."