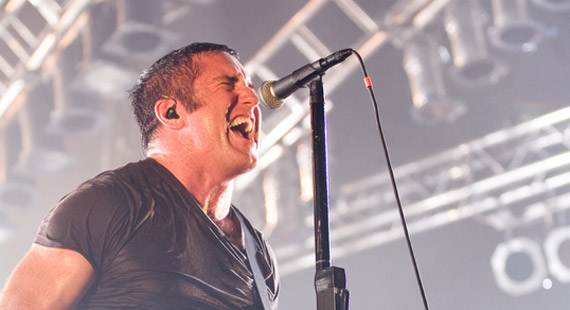 Ferenc Szelepcsenyi / Shutterstock
Lollapalooza Rumored Bill Highlight Nine Inch Nails, The Cure
It appears previous rumors that Mumford & Sons, Vampire Weekend, Phoenix, Postal Service and the Killers will play this year's Lollapalooza are true, and they also will be joined by the Cure and Nine Inch Nails, among many others.
The first rumors surfaced about a week ago, but last night, March  27, a poster listing most of the lineup of the event leaked online, and the Chicago Tribune reports that multiple industry sources have confirmed the poster as legit.
Lollapalooza spokeswoman Shelby Meade would not comment on the leak, but said that the official announcement of the lineup will come next week. This means that the official version of the lineup will be released about a week before it was initially expected. She also revealed that the announcement will include a new on-sale date for single-day tickets. Three day passes to the event already are sold out.
Other notable artists on the impressive lineup include New Order, the National, Queens of the Stone Age, Eric Church, Grizzly Bear, the Lumineers, Kendrick Lamar, Ellie Goulding, Band of Horses, Father John Misty, Thievery Corporation, Lana Del Rey, Cat Power, Matt & Kim, Alt-J and Hot Chip, among many others.
Vampire Weekend will use the appearance as a chance to promote its upcoming third album, Modern Vampires in the City. The album was originally set for release May 7, but it was announced earlier this week that the street date would be moved back a week to May 14.
This year's incarnation of the event will be held August 2-4 at the festival's long-time home in Chicago's Grant Park.
Lollapalooza was founded by Jane's Addiction frontman Perry Farrell as a traveling festival back in 1991, and after a hiatus in the late 1990s and early 2000s, returned in 2003. However, since 2005 the event has been held as a multiple day festival in Chicago rather than a touring entity.