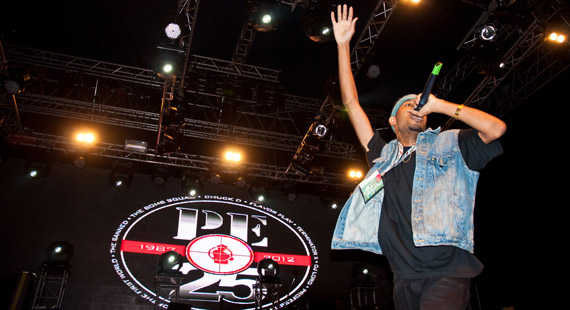 Michal Durinik | Shutterstock
LL Cool J, Ice Cube, Public Enemy, De La Soul Set for Kings of the Mic Tour
Hip Hop legends LL Cool J, Ice Cube, Public Enemy, DJ Z-Trip and De La Soul will hit the road this summer on an extensive U.S. tour.
Dubbed the "Kings of the Mic" tour, the trek will kick off May 23 at the Ava Amphitheater in Tucson, and will continue through a stop at the Essence Music Festival in New Orleans on July 5. The tour will hit most regions of the U.S., and will make stops in San Francisco, Minneapolis, St. Louis, Atlanta, Boston, New York, Cincinnati and Houston, among other cities.
"This album and tour are for you," LL Cool J tweeted. "Thank you for being there from day 1."
The album he's referring to is his upcoming album, Authentic. The album will be released April 30, and is his 13th studio album. It's also his first album released since 2008's Exit 13.
The record will feature a variety of special guests, including Jennifer Lopez, Kendrick Lamar, Monica and Joe. The final track, "Whaddup," is produced by Blink 182 drummer Travis Barker and features Chuck D, DJ Z-Trip, Rage Against the Machine guitarist Tom Morello and Barker. Continuing this eccentric streak, LL also retweeted news that country star Brad Paisley will appear on Authentic.
In other LL Cool J news, he also tweeted that Authentic is completed and that he has already started work on another new album, though no more details were released.
Public Enemy likely will use the tour as a celebration, as this year marks the group's 25th anniversary. Before the tour kicks off, they will be inducted into the Rock and Roll Hall of Fame in April.
The group put out their most recent album, The Evil Empire of Everything, in October of last year. The record is the 12th studio album released by the group, which features Chuck D and Flavor Flav.