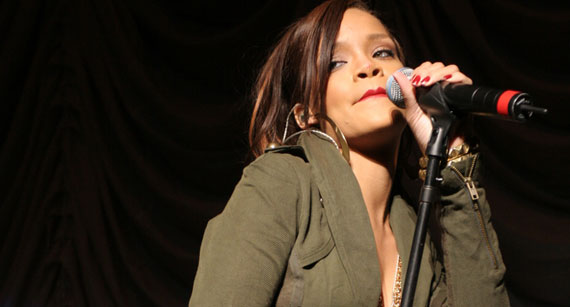 Adam J. Sablich | Shutterstock
Laryngitis Forces Rihanna to Cancel Baltimore, Boston Concerts
Rihanna has canceled two dates on her recently launched "Diamonds World Tour" due to contracting the flu and laryngitis.
The tour just launched last Friday, March 8 in Buffalo, N.Y., and she then canceled Sunday night's Boston show. After that announcement, she revealed that she would also be forced to canceled her scheduled March 12 appearance in Baltimore. Her next scheduled concert is set for tomorrow, March 14 in Philadelphia, and as of now that concert is still scheduled to go on.
"#BOSTON this is the hardest thing for me to deal with! I feel like we've been waiting on this day forever, and I'm hurt that I let you down," Rihanna tweeted about the cancellation. She later added, "I hate disappointing people that never ever let me down!! I'm so embarrassed about this! Thank you for your prayers and well wishes! #DWT"
Live Nation told the AP in a statement that "Rihanna is still recovering," and also added that fans "are instructed to retain their tickets pending rescheduling show date information." No new dates have yet been released.
The new tour supports her most recent album, Unapologetic, which was released in November 2012. The name of the world tour comes from the album's first single, "Diamonds," which preceded the release date of the record and appeared in September 2012.
Unapologetic debuted at number one on the Billboard 200 albums charts when it was released, becoming Rihanna's first number one album. The record features guest appearances by Eminem, Mikky Ekko, Chris Brown, David Guetta and Future.
Rihanna has released an album every year since 2005 with the exception of 2008. Though she's only 25, she had sold more than 37 million albums before Unapologetic was released, and she has now won seven Grammy Awards, including one earlier this year for Best Short Form Music Video for her hit "We Found Love," off her last album Talk That Talk.