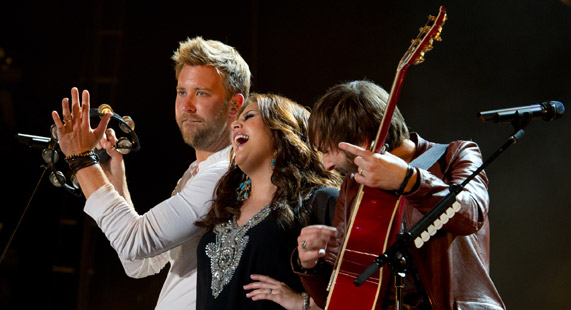 Mark Runyon | ConcertTour.org
Lady Antebellum Welcomes 2014 with 36 New Tour Dates
Lady Antebellum's Take Me Downtown tour just got bigger. A lot bigger, actually. They've only gone and added 36 dates to the thing and they're headed straight for 2014!
The new leg of said tour kicks off on January 9th 2014 in Charleston, West Virginia and sees the band work their way down the East Coast, back up the East Coast, play six dates in Canada, cross the country to the West Coast and wind up in Knoxville, where it all ends on April 27th.
I think I speak for everyone when I say that I hope, with every fiber of my being, that they make the most of Christmas.
When the tour was originally announced, Lady Antebellum's Chris Kelly said: "We spent almost every day last year backstage writing for our album Golden, so we were really focused on writing songs that would connect with the fans in these arenas."
Kelley added "We definitely learned a lot about ourselves as live performers and the type of catalog we wanted to have so that we could go out and try to give the fans the best show they've ever experienced."
The tour itself doesn't actually kick off till November 8th in Southaven, Mississippi.
Kip Moore and Kacey Musgraves will be accompanying the band on the Take Me Downtown tour, with Moore posting "My buddy Charles Kelley from Lady Antebellum has something he wants to share with y'all. Who's coming to see us on the#takemedowntowntour?" on his Facebook page after Lady Antebellum announced the additional tour dates.
[Quick question: Is it now OK to use hashtags in Facebook updates?]
Lady Antebellum's most famous song "Need You Now", apparently, won all of these Grammys in 2011:
Record of the Year
Song of the Year
Best Country Performance by a Duo or Group with Vocals
Best Country Song
Woah. Not bad.