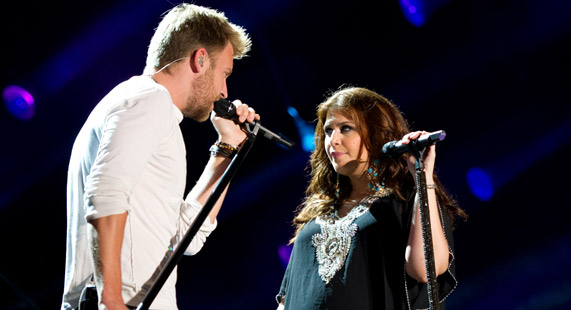 Mark Runyon | ConcertTour.org
Lady Antebellum Forced to Cancel Summer 2013 Festival Appearances After Hillary's Pregnancy
Lady Antebellum has been forced to cancel previously scheduled 2013 summer festival appearances due to the recent revelation that singer Hillary Scott is pregnant.
Appearances planned in North Platte, Neb.; Manhattan, Kan.; Alberta, Canada; Cheyenne, Wy. and York Pa. have been cancelled, according to the group's website.
"Lady Antebellum's previously announced performance at NEBRASKAland DAYS in North Platte on June 21st, 2013 has been cancelled," said a statement on the official website for that festival. "Hillary Scott is expecting her first baby and will not be able to travel and perform through the summer."
Last week, Scott broke the news that she and her husband are expecting a baby on the trio's Facebook page.
"Chris & I are excited to announce that our Christmas gift has arrived a little early this year! We are having a BABY! We feel so blessed," she wrote on the page. Though the due date of the baby was not revealed, TheBoot.com speculates that since "most couples don't announce their pregnancies until they're past the first trimester, it's likely that Hillary is expecting her baby sometime in June."
Scott married Chris Tyrrell on January 7 of this year. Tyrrell is the drummer for Love and Theft, and the two met in 2010 during a Tim McGraw tour.
In a recent interview with the USA Today, Scott revealed one of her Christmas Eve traditions.
"We always open one present, and it's always pajamas," she said. "We both open it up, and we both run as fast as we can into my parents' room and we change into our pajamas, and those are the ones we sleep in on Christmas Eve."
It would seem that the love of Christmas spreads to the entire band, as the group used their appearance at the 2012 American Country Awards earlier this week to perform "Christmas (Baby Please Come Home)."