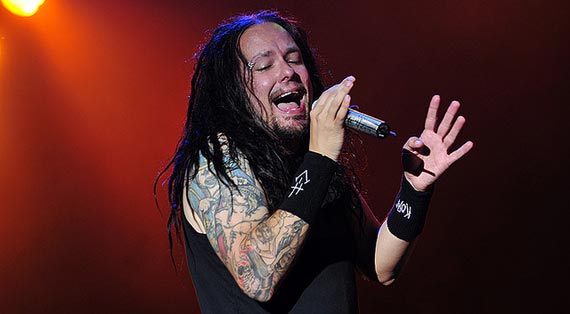 Korn Sets 2013 Tour with Asking Alexandria, Love and Death
Korn (imagine that 'r' is backwards) have just announced a North American tour in advance of the release of their 11th studio album, The Paradigm Shift, due for release on October 8th of this year.
The Paradigm Shift will be Korn's first album featuring guitarist Brian Welch since Take A Look In The Mirror, which was released a decade ago.
The tour is scheduled to kick off on September 26th, in Philadelphia's Electric Factory and sees the nu-metal pioneers head to New York's Roseland Ballroom, Toronto, Detroit, Chicago, Los Angeles and Las Vegas, where the whole thing ends on October 10th, among other places.
Support will come from special guests Asking Alexandria and Love and Death, so Brain Welch will be working overtime across the nine shows, playing guitar for headliners Korn, and fronting Love and Death.
Of the shows, band frontman J-Dav has suggested that they're not for the new adopter:
"These shows are for the diehards," says Korn singer Jonathan Davis. "Can't wait to play the new songs from The Paradigm Shift and expect some surprise blasts from the past too because Head's back!" (By the way, "Head" is the guitaring gentleman I mentioned earlier. He presumably prefers his nickname because "Brian" isn't a very rock n roll name, is it?)
Korn have already premiered a couple (well, one and a fraction) of new tracks from the much-anticipated album, including official first single "Never Never" and a bit of "Love & Meth."
Here are some facts about Korn:
4 out of 5 of them seem to now have dreadlocks
Eight of their albums have gone platinum or multi-platinum
Korn have released 39 music videos (!!!)
Korn have been nominated for seven Grammys, and won two
Their lead singer and frontman, Jonathan Davis, designed their now-iconic band logo
The name "Korn" came from the suggestion that they should call themselves "corn", but nobody knows why anyone suggested "corn"