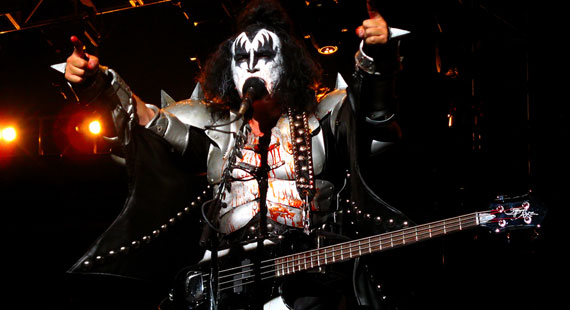 Keith Tarrier | Shutterstock
KISS Paints Face of Canada with 'Monster Tour' This Summer
KISS has added a month's worth of Canadian dates to its current world tour that also serves as a 40th anniversary celebration.
The dates will kick off July 5 in Victoria, BC, and run through August 3-4, when the band will undertake a two-night residency at the Mile One Stadium in St. John's, NL. Other cities on the schedule include Vancouver, BC; Edmonton, AB; Winnipeg, MB; Ottawa; Toronto and Montreal.
"We're a real, flesh-and-blood rock and roll band with people who've spent 40 years doing what we believe in," said guitarist Paul Stanley said in a statement. "It's about celebrating life and going against the odds for what you believe in. As corny as that may sound, it got me where I am, and the naysayers will have to live where they are."
The band first formed in January 1973 in New York City, and in the four decades since, they've landed 28 gold albums and sold 100 million records around the world.
In addition to the its birthday, the group also will be touring to promote their 20th studio album, Monster, which was released late last year. A press release promises that it doesn't get any bigger than KISS, which is "40 years old and ready to kick the asses of any young rock pretenders out there."
I guess Canadians will have to judge the truth of that statement for themselves. In fact, there'll be a younger band on the bill as well, as Shinedown will open all dates.
Before heading out on the Canadian dates, the group will be trekking it around Europe for the majority of June, stopping in Stockholm, Copenhagen, Berlin, Prague and Vienna, among others.
The group has only one U.S. date currently on its schedule, which is an August 16 show at the Amway Arena in Orlando.