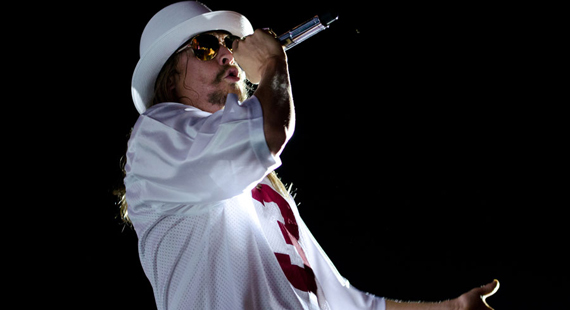 Mark Runyon | ConcertTour.org
Kid Rock Visits Detroit's Comerica Park in August
The not so well-kept secret is now official. Kid Rock has announced he will be performing a concert in his hometown of Detroit at Comerica Park on August 12.
Opening the show will be Sammy Hagar & the Wabos. Tickets are going on sale on June 11 via LiveNation.com and Tickets.com online, at Comerica Park's box office and selected Meijer stores. Tickets are not being sold through Ticket Master.
General admission field tickets will cost $79.50, lower deck grandstand will be $49.50 and upper deck seats will be $30. For the upper deck seats a six pack costing $99 will also be available in addition to a VIP package which includes a Kid Rock limited edition Detroit Tigers jersey.
In July 2009 Kid Rock performed two Comerica Park sold out shows. This will be Rock's second show this year in an arena stadium. In January he celebrated his fortieth birthday at Ford Field.
Last week at his official website Rock had a teaser about the Comerica show. He wrote that this summer he was really looking forward to be able to spend time in Comerica Park, and not just to watch the Tigers play.
It had been expected that the show at Comerica would coincide with Comedy Central taping a roast of Rock at Fox Theatre. However according to a source, it has been called off because of logistical problems.