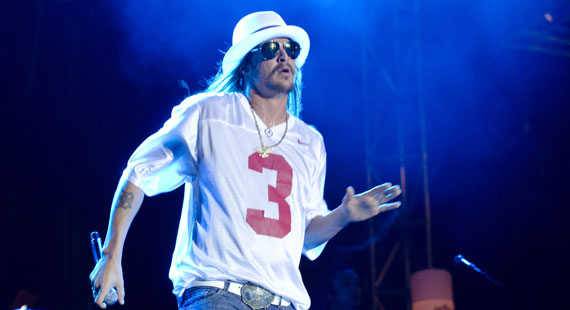 Mark Runyon | ConcertTour.org
Kid Rock, the NAACP and the Confederate Flag
This May, the Detroit chapter of the National Association for the Advancement of Colored People intends to bestow Kid Rock with the Great Expectations Award.
Kid Rock, though, is facing protests even though he is a huge proponent of hip-hop and soul music. He is drawing fire because he displays a Confederate flag when he is performing. Based in information from the Huffington Post, a number of NAACP members are against his receipt of this award because of that flag.
The Confederate flag represents a number of historical events but none of those are positive when it comes to the plight of African Americans following the Civil Rights era. The NCAAP, on the other hand, was formed to champion the rights of black people. The Post points to an interview Kid Rock once gave in which he said, "Sure, [the Confederate flag's] definitely got some scars, but I've never had an issue with it. To me it just represents pride in southern rock 'n' roll music, plus it just looks cool." Perhaps he doesn't have an issue with it because he's not African American and maybe he should look at it from the perspective.
Kid Rock's representative has not released a statement regarding the possible boycott and tension growing within the NAACP.