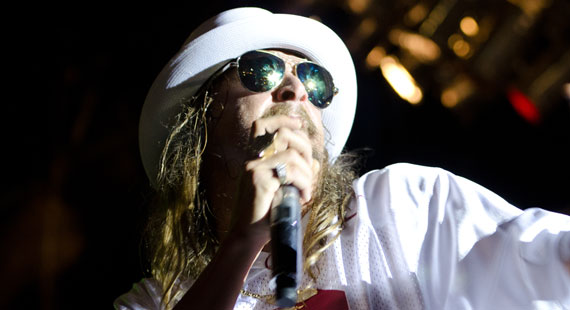 Mark Runyon | ConcertTour.org
Kid Rock, Sugarland Featured at Jazz Aspen Festival
The name of the Jazz Aspen Snowmass Labor Day Festival may be slightly misleading, as it is definitely not only a jazz festival. A newly released lineup for the festival includes such big names as Kid Rock and Sugarland.
The Labor Day festival will take place August 31 to September 2 in Snowmass Village, Colo., which is near Aspen. The festival features genres including classic rock, country, funk, hip-hop, R&B and, of course, jazz.
Other notable names in the lineup include the Steve Miller Band and Trombone Shorty & Orleans Avenue. Additional artist are expected to be added to the lineup soon.
The festival bills itself as the "Hottest 72 Hours of the Summer," and the festival is held at Snowmass Town Park. In addition to the big-name headliners that will play on the main stage, the event also features two additional stages. Concertgoers can send tweets with the hashtag #72hoursofjas during the festival to ask questions of the organizers that will make their experience even better.
In addition to the music, festivalgoers can expect all the Colorado town has to offer, including mountain biking, whitewater rafting, sunbathing, spas, hiking and skateboarding. An Early Bird 3 Day Pass is currently available for the event for $199. There's been no word yet as to what the price will be after Early Bird Passes run out.
In addition to the Labor Day festival, the "Jazz Aspen Snowmass June Festival" also will be held at the same grounds. The event will run for two weeks, with four nights of headliners that will play at the Benedict Music Tent. Those nights will be June 22-24 and July 7. Headliners for the festival will be K.D. Lang, Joe Cocker, Chris Botti and The Dukes of September Rhythm Revue. The latter is a supergroup of sorts that features Donald Fagen, Michael McDonald and Boz Scaggs.