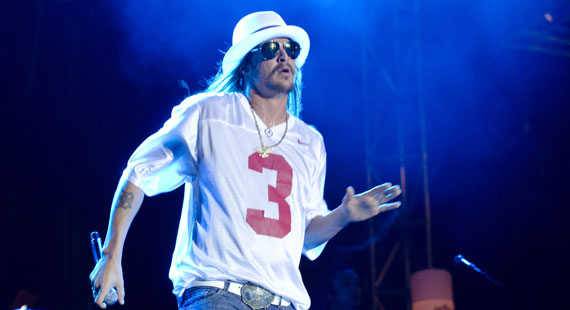 Mark Runyon | ConcertTour.org
Kid Rock Schedules $20 Tour with ZZ Top, Uncle Kracker
Kid Rock is heading out on tour this summer with ZZ Top, Uncle Kracker and Kool & the Gang. And he wants you to know the show is only going to cost you 20 bucks.
First off are the tour details, and then we'll get to that $20 thing. The trek will kick off  at Jiffy Lube Live in Bristow, Virginia on June 28, and will run through a Tampa show September 15 at the Live Nation Amphitheatre. Other cities on the schedule include Camden, New Jersey; Albuquerque; Mountain View, California; Indianapolis; Saratoga Springs, New York; Pittsburgh and Atlanta.
Uncle Kracker will provide support for almost all shows, with Kool & the Gang joining for the first half of the tour and ZZ Top joining for the second half. However, during a three night stand at the DTE Music Theater in Detroit August 9-11, only ZZ Top will appear with the Michigan native.
Now for the $20 tickets: almost all tickets at all the venues will be at the low price, though there are some stipulations. Though each section will have $20 tickets, around 1,000 shows each night will be released through Platinum Tickets via Ticketmaster, which uses a "dynamic pricing" system modeled after airlines and hotels. Rock says this is his version of scalping his own tickets to fight traditional scalpers.
When buying the ticket directly through Ticketmaster, fans will still be charged a $5 service charge fee and a $3 fee for parking. However, if buyers are able to get a limited number of tickets released to Walmart, they will pay a total of $20.
Rock spoke extensively about his plan to Billboard, and the idea is to essentially lower the prices in expectation of selling more tickets. He also plans to make money with lower beer prices and merchandise sales, but says if the numbers don't add up at the end of the tour, he'll eat the loss himself.
To me, the most novel idea is trying to do all of this in conjunction with Live Nation and Ticketmaster, while many artists are trying to achieve similar feats by going around the huge company. But Rock is taking an interesting "if you can't beat 'em, join 'em" approach in hopes to making things easier on his fans in a strapped economy. Kudos to the Kid.