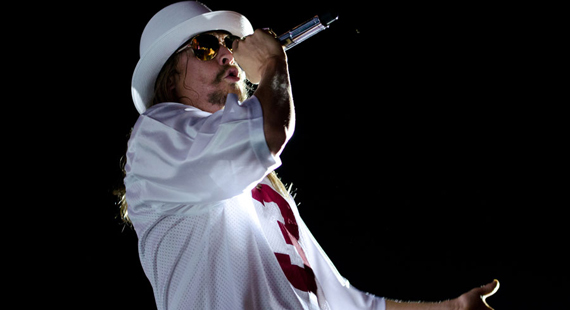 Mark Runyon | ConcertTour.org
Kid Rock Launches World Tour for 'Rebel Soul' in February
Kid Rock will hit the road next February for the first leg of his worldwide "Rebel Soul Tour."
The first leg will be in the U.S., and will kick off at the Sprint Center in Kansas City, Missouri, and the trek is scheduled to run through a March 2 show at the KFC Yum! Center in Louisville, Kentucky. In between those dates, the Detroit rocker will hit cities including Beaumont, Texas; Bossier City, Louisiana; Nashville; Greenville, South Carolina; New Orleans and Knoxville, Tennessee.
Rock will be backed by his longtime backing group the Twisted Brown Trucker Band, and all dates will be opened by Hellbound Glory. Before the tour kicks off, Rock will play two shows to ring in the new year at the Hard Rock Live in Hollywood, Florida on December 30 and 31.
Though no official dates have yet been set, The Detroit News also reports that Rock will likely play his hometown sometime this summer.
"If the stars align, we're gonna take it to even the next level in the Detroit area," he told reporters earlier this month, referring to his previous two summer shows in the city at Comerica Park in 2010 and 2011.
Rebel Soul is Kid Rock's seventh studio album since releasing his breakthrough Devil Without a Cause in 1998. It was released last week on November 20, and debuted at number five on the Billboard 200 albums chart, selling 146,000 during its first week of sales in the U.S.
The Detroit Free Press reports that more than 13,000 copies of Rebel Soul were sold in Detroit, and Michigan sales accounted for almost 11 percent of the total copies sold. The number five position on the albums chart marks the same debut spot as Rock's last album, 2010′s Born Free. His 2007 offering, Rock N Roll Jesus debuted at number one.